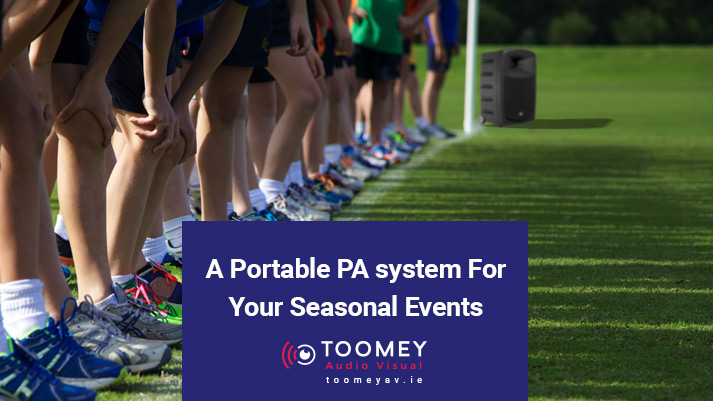 15 Oct

A Portable PA system For Your Seasonal Events

A portable PA system is the most convenient piece of technology for a school or college to possess. Why restrict yourself to one room or venue when you can enjoy all the benefits of a portable PA system for your school?
School Events That Benefit from a Portable PA System

Think of all the events throughout the school year that could be enhanced by having a high-quality wireless microphone and a high-quality speaker to boot. Here are some sample events were I'm sure you'd agree a simple PA system would come in very handy.
Daily Assembly: Address the school with ease. You can be heard clearly whether you are speaking to 30 or 300 people.
Halloween Party: Play spooky music from CD, Phone or laptop.
Christmas Play: Play Christmas music, address parents and most importantly make sure the big man gets heard!
Flag Raising: Make sure the entire audience can hear everything you say.
Tree Planting: The built-in battery is ideal as no mains power is required allowing you to use the portable PA outside.
Outdoor Ceremony: Crystal clear audio, no cables, background music and no mains power required.
Sod Turning: Versatile and convenient for outdoor events, even mucky ones!
Information Evenings: Whether it's parent evenings, committee events or open days, the portable PA is worth its weight in gold.
Sports Day: How about a system that plays music all day and is as simple as flicking a switch to make announcement that can be heard all over the football pitch!
Portable PA Systems for Irish Schools
At Toomeys, we have supplied hundreds of portable PA systems to Irish schools. The most common feedback we receive is "How did we manage without it?" and "It's used every single day!". Genuinely, this is the single most useful piece of kit we supply to schools.
Why Choose A Portable PA System?
Every event can be enhanced. Guests can be heard, vocal chords can be saved, kids can dance, debaters can argue the fact, songwriters can be discovered, results can be delivered, and players can play! Don't wait until the start of your next school event to say "I should have ordered that portable PA system" – act now and be ready!
High Quality Portable PA Equipment for Schools
Our range of portable PA equipment consists of high-quality Pro audio products designed to be moved around, operated easily and yet robust enough to take the day to day abuse of school use. Toomey AV, are portable audio experts. We have a high-quality portable PA system which ticks all the boxes like high quality audio, inbuilt wireless handheld microphone, robust educational design, inbuilt CD deck, USB & SD Card Playback, inbuilt bluetooth and inbuilt battery (also mains powered).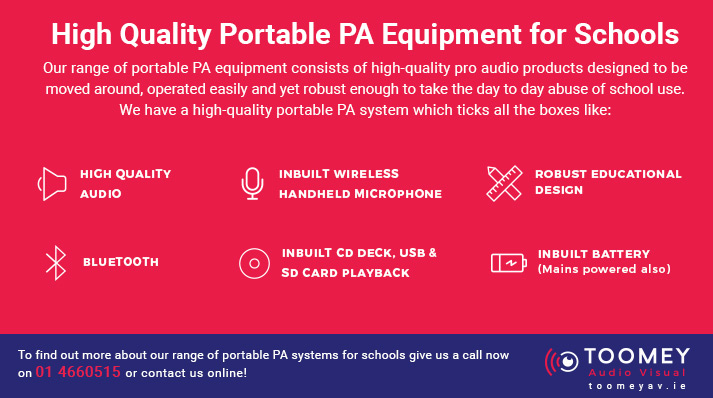 Portable PA System for Schools
If you need a portable PA system for your school give us a call now on +353 1 4660515 to speak to the team, contact us online or email us at info@toomeyav.ie for expert advice.
Make sure you don't miss out on future blog posts by joining our mailing list now!