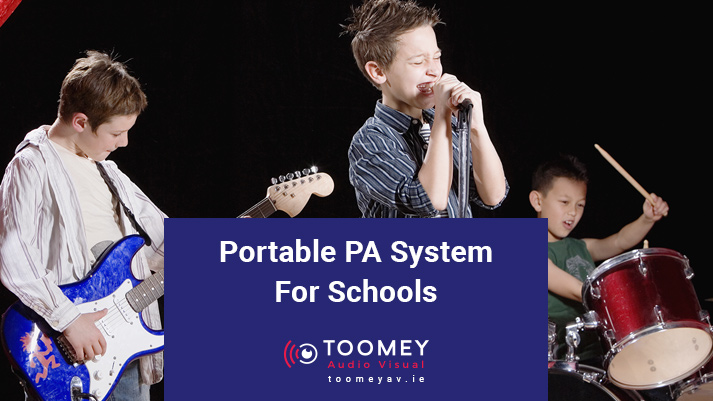 27 Mar

Portable PA System For Schools

Investing in a portable PA system for your school / college makes sense when you consider those special occasions that involve the entire student body. These occasions instill in both teachers and students a sense of pride and solidarity. Through them the school becomes more than just a place of learning: it becomes a community. What kinds of occasions are we talking about here? There are many but three of the most common are graduation ceremonies, talent competitions and concerts.
Investing In A Portable PA System
Musical concerts are a great way to welcome freshers to college at the start of the academic year. Having a band play in a college hall, cafeteria or outdoors in the centre of the campus creates a nice, relaxing vibe which will appeal to nervous newcomers. Starting college is always a bit scary and intimidating and having a band play will take the edge off these feelings. Of course, it is also exciting to be a fresher and a live performance by a band will feed this excitement and appeal to all the promise and expectations of a liberal education.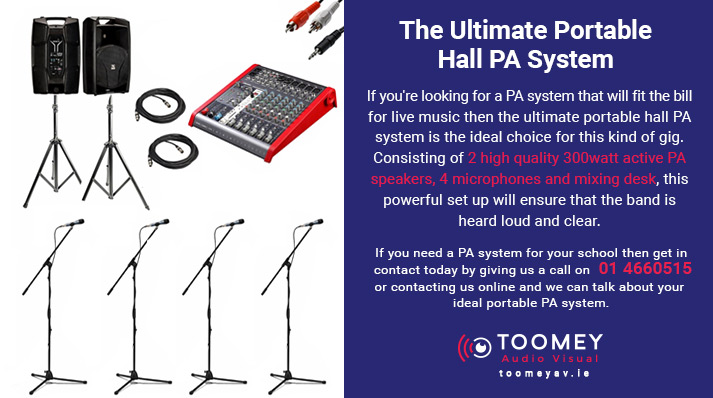 The Ultimate Portable Hall PA System
If you're looking for a PA system that will fit the bill for live music then the ultimate portable hall PA system is the ideal choice for this kind of gig. Consisting of 2 high quality 300watt active PA speakers, 4 microphones and mixing desk, this powerful set up will ensure that the band is heard loud and clear.
PA Systems for Graduation
Graduations are an important date in any school or college's diary. The formality of these occasions is necessary to lend weight to the proceedings and the most formal part, besides having your name called and going up to collect your award, is the speech, which is usually given by the school president or guest or both. This speech must be loud and clear and crisp and the only way to make this happen is through a PA system.
BARTHE 120 Watt Portable PA System
Our BARTHE 120watt portable PA system is ideal for graduations. Mains or battery powered, it consists of a powerful 120watt speaker, wireless handheld microphone and blue-tooth connectivity to connect your iPhone, iPad, iPod and USB or SD card. The BARTHE range also offers top of the range language equipment which is perfect for classroom use!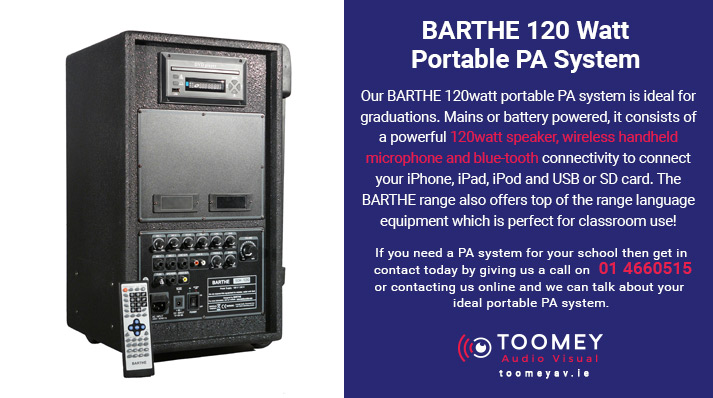 The Perfect Choice for School Talent Nights
This portable PA system is also the perfect choice for school talent nights / competitions. Talent should be recognised, nurtured and celebrated, especially in the learning environment as, developmentally, our most important years are spent in school and college. Also, the student body provides a convenient audience for budding talent. Our Barthe 120watt portable PA system will provide for singer / songwriters, stand-up comedians, dramatic monologues and any other kind of performance that requires a good, clear and far reaching sound.
The Ideal Portable PA System For Your School
At Toomey's AV we've been dealing in this kind of PA system technology for decades and many schools and colleges have benefited from out expertise and know-how. If you want to join our long list of satisfied customers, get in contact today by giving us a call on +353 1 4660515 or contacting us online and we can talk about your ideal portable PA system.