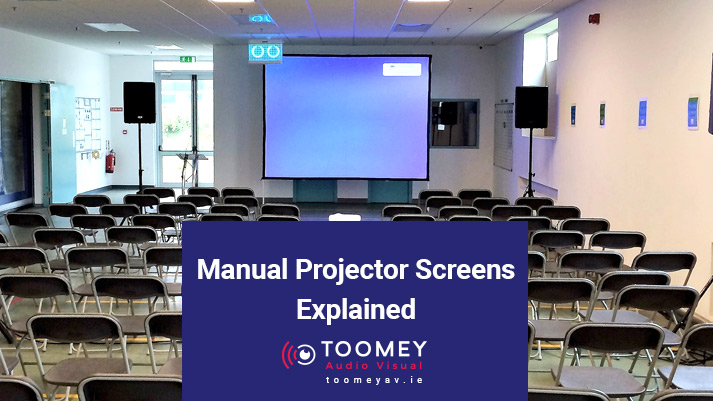 02 Oct

Manual Projector Screens Explained

As far as projector screens go, there is a lot to be said for the reliable, traditional manual screen projector. These days they are very durable and effective and, of course, they are affordable too. After recently discussing electric projector screens it's time to give you the lowdown on manual projector screens – read on!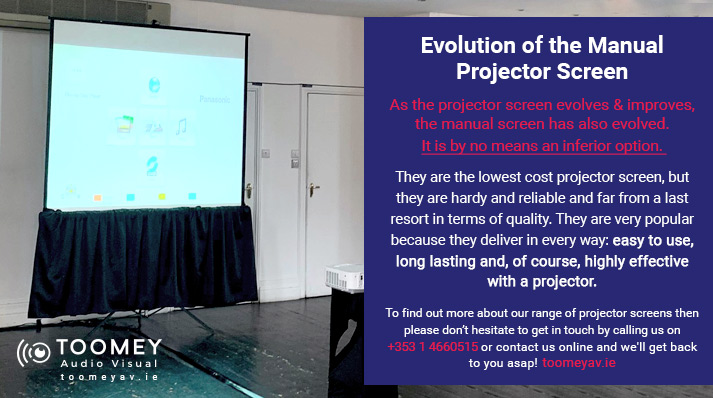 Evolution of the Manual Projector Screen
As the projector screen evolves and improves, the manual screen has also evolved. It is by no means an inferior option. Yes, they are the lowest cost projector screen, but they are hardy and reliable and far from a last resort in terms of quality. They are very popular because they deliver in every way: easy to use, long lasting and, of course, highly effective with a projector. Let's have a closer look at this low cost, high performing projector screen.
Manual Projector Screens Come In Many Sizes
Manual projector screens come in many sizes and aspect ratio formats. Most of them come in either a white or black case to fit your interior décor. Features such as a lanyard for hard to reach applications, black-masking borders around the viewing area and a dual wall/ceiling mount design are standard. Size typically ranges from 1.5M wide up to 2.7M wide.
Impressed? There's more!

Specifications for the Latest Manual Projector Screens
Here are some typical specifications for the latest manual projector screen models:
White matte screen material that is durable and easy to clean.
180 degree wide viewing angle for commercial presentations or residential home cinema.
Compatibility with short-throw projectors.
Black backed screen material that eliminates light penetration for superb colour reproduction.
Auto-locking system that provides variable height settings in any position.
New Slow Retraction Manual Projector Screen
We've also encountered a new slow retraction manual projector screen that we are excited about and would like to share with you. As its name suggests, the slow retraction screen simply retracts at a low speed. This might not sound very impressive, but it is a major leap forward as a solution to the age-old problem of someone tugging down to release the screen and letting go, only to have it roll up at high speed and risking damage.
A Highly Popular Class of Projector Screen
We hope by now that you are impressed by this feature rich and highly popular class of projector screen. In our descriptions, we have mentioned the important term 'aspect ratio' only once and we haven't explained it. This is because it is a highly technical subject. All you need to know is that we will advise you as to which aspect ratio you require. With over 50 years dealing in projectors, you can trust us with this and any other area that you might be perplexed by.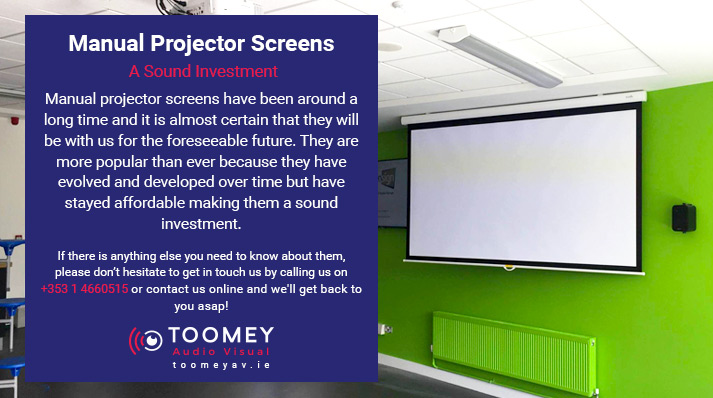 Manual Projector Screens – A Sound Investment
Manual projector screens have been around a long time and it is almost certain that they will be with us for the foreseeable future. They are more popular than ever because they have evolved and developed over time but have stayed affordable making them a sound investment. At ToomeyAV, we are proud to include the manual projector screen in our range. If there is anything else you need to know about them, please don't hesitate to contact us by calling us on +353 1 4660515 or contact us online and we'll get back to you asap!
Make sure you don't miss out on future blog posts by joining our mailing list now!