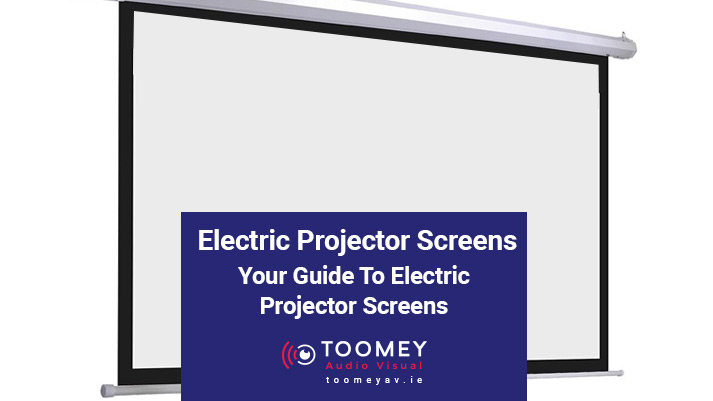 24 Sep

Electric Projector Screens – Your Guide To Electric Projector Screens
Popular Projector Screens
After introducing you to the different types of projector screens for schools this article is primarily concerned with the electric projector screen. But first, let's do a refresher on the two most popular projector screens: tripod and fast fold. Everyone will recognise the classic tripod screen: it is made up of the typical roll up screen and built-in legs. The tripod screen is the most popular choice for those looking for a portable and convenient projector screen. Fast fold screens have a foldable aluminium frame and extremely flat surface. This type of screen is ideal for those who want the option of front or rear projection. Large but lightweight, the fast fold screen can be incorporated into stage sets for conferences and events and, indeed, have a corporate, conference look and style about them.
Now, for the remainder of this article, let's zone in on a very popular and beneficent type of projector screen: the electric screen.
Electric Projector Screens Are Highly Versatile
Electric projector screens are highly versatile. They can be used at home, in the office or in the classroom. There are many different types and brands out there but ToomeyAV only deals in those of the highest professional quality.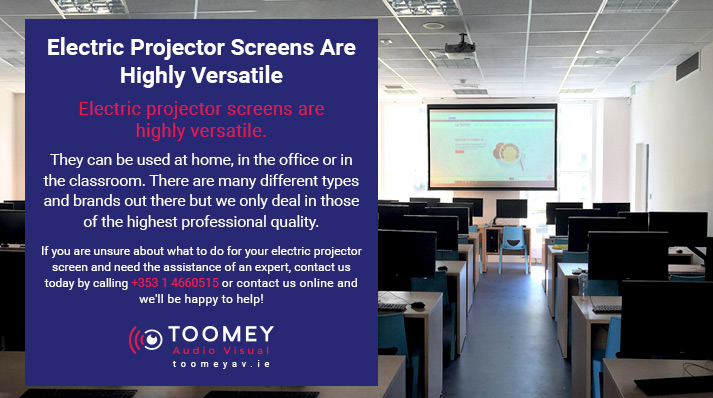 The Size of The Electric Projector Screen
So, what are these popular and powerful screens made up of and how do they work? Read on for a brief master class! Typically installed permanently, the size of the electric screen ranges from 1.8mtr. wide up to 6mtr. wide. That's an impressive range, we're sure you'll agree, and it accounts for the versatility of this type of screen. It can be installed pretty much anywhere: from the home to the largest of school hall AV systems or offices.
A Tubular Electric Motor For Rolling The Screen
The screen has a durable white matte surface which optimises the gain, brightness and contrast of the projected image. A tubular electric motor rolls the screen up and down quietly and, when rolled up, the screen is typically protected by a metal case that is easily attached to wall or ceiling. And, of course, it comes with the very handy remote control, which really needs no explanation.
Electric Projector Screens – Sleek & Powerful
So, there you have it, some key info about this sleek and powerful class of projector screen. We guarantee that it will make your life a lot easier if you plan on using a projector frequently. Clean, tidy and user-friendly, a high-quality electric projector screen will never let you down.
Avoid Cheap Online Suppliers
In finishing up, can we leave you with some advice? It is this: you must avoid cheap online suppliers of electric projector screens. The kinds of screen they deal in will not last the rigours of daily use over time. The motor usually breaks down after a relatively short period leaving owners disappointed.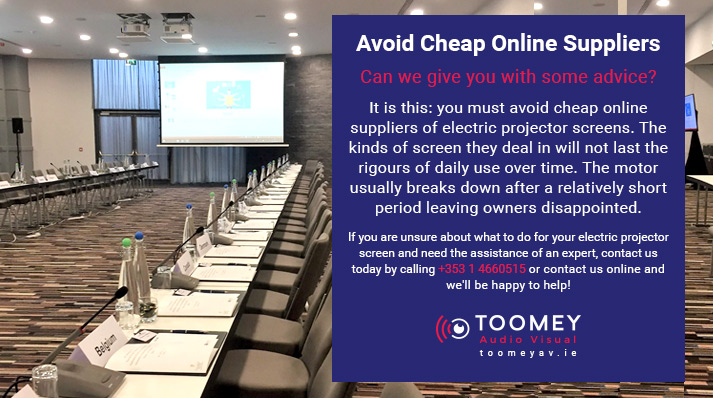 Electric Projector Screens Ireland
If you are unsure about what to do for your electric projector screen and need the assistance of an expert, contact us today by calling +353 1 4660515 or contact us online and we'll be happy to help!
Make sure you don't miss out on future blog posts by joining our mailing list now!