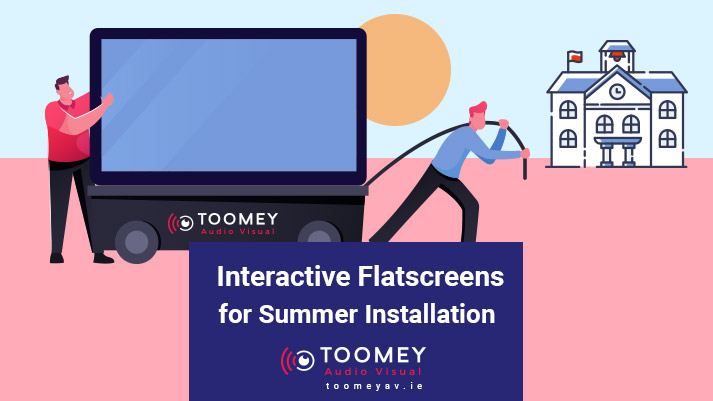 31 May

Interactive Flatscreens for Summer Installation

Now is the time to book your Classroom tech upgrades for over the summer break. Whether you are upgrading one classroom or an entire school, the project takes planning and expertise to ensure an overall smooth transition. Toomey Audio Visual are the specialists and we ensure everything is ready to roll on day one of next term. By choosing Clevertouch Interactive Panels, you can very quickly box off some key requirements.
Clevertouch Summer Installation
Why do we recommend Clevertouch to Irish schools? Well, check out some of the standout Clevertouch features below:
Choice of screen sizes 65", 75"(Most popular) & 86" (Supersized)
Super 4K Picture Resolution
Premium High Precision 20-point Touchscreen
Inbuilt Android Platform offering (Browser, whiteboard, Cloud Storage, Cleverstore,)
Wireless Casting
Stunning Premium Educational Software – Lynx & Snowflake
5 Year Onsite Warranty
No. 1 Selling Interactive Panel in Ireland
Clevertouch is the #1 selling Interactive Panel available in Ireland. The Clevertouch Impact & M Series panels are built for the classroom and offer a host of specialist features that you simply won't find on other cheaper (and more expensive) alternatives.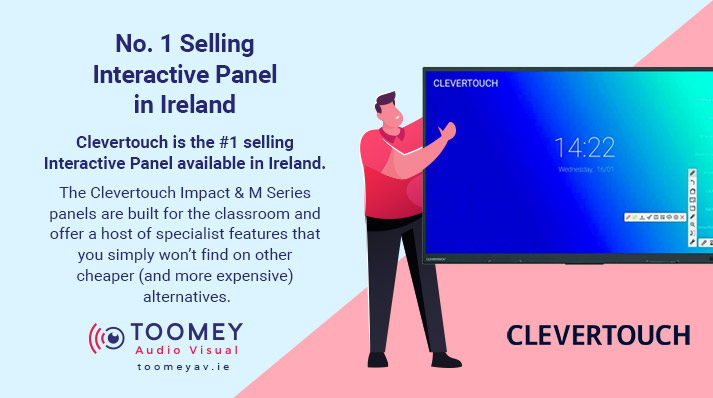 More Reasons To Go Clevertouch This Summer
The Clevertouch interactive panels are a workhorse for your classroom, check out some of the other must have features that they include.
High Precision Technology: Clevertouch patented Super Glide Touch technology offers the most fluid writing experience on a touchscreen. It's as smooth as writing on a whiteboard – with no lag. With the ability to differentiate between palm-erase, fingertouch, and stylus-writing, there's no need to change settings mid-flow.
LUX 8.0 Android: Easy to use interface. Simple, quick, intuitive apps and gestures designed to make everyday tasks seamless.
Infinity Whiteboarding: Never run out of space with our infinite canvas. With numeracy tools, handwriting-to-text recognition, and the ability to insert images and shapes, all of which can be saved, printed or shared to student devices.
Cleverstore (Impact Series): Access hundreds of free teaching apps to make lessons more engaging via Cleverstore.
Remote Management (Impact Series): View, control, update and troubleshoot remotely. Your IT office can work on your Clevertouch screen without needing to come to the classroom. You'll always have the latest versions of apps and software without needing to install any files when you should be teaching.
Audio: 2 x 15W speakers for crystal clear sound quality from anywhere in the room.
Connectivity: Huge connectivity including one of the latest USB-C ports. Allows single cable connection for audio, video, and touch.
Ideal Time for School Upgrades
If your aim is to upgrade and install new equipment then the summer months are the ideal time to fit out your school as not to disturb students lessons. We offer a bespoke AV installation service which will work with each school individually to supply the very best plan for their needs be it for a one off classroom upgrade or a full school hall AV system. Also, if you're happy with your schools current technology setup but are not happy with its placement, or feel it need tweaking, we can help with the relocation of your projectors or screens to get a fully optimal result.
AV Installation Specialists for Schools
We have teams of AV Installation specialists with vast experience working in School environments. We know projectors, screens, Interactive displays, sound systems, cables and cameras like no-one else. We can remove all your old equipment and Weee recycle it at no cost. We can even relocate your whiteboards to make sure your classroom is exactly as you want it.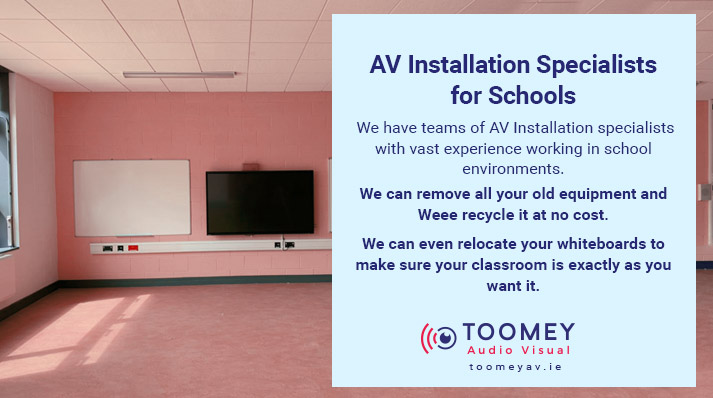 Optimise Your School AV This Summer
If you would like to make the most of your summer months and optimise your schools efficiency then please give us a call on 01 4660515 or contact us online and we would be happy to discuss your options.