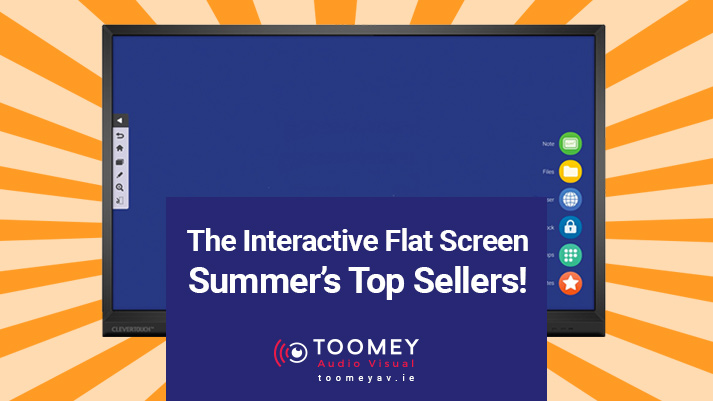 21 Jun

The Interactive Flat Screen: Summer's Top Sellers!
Top Selling Interactive Flat Screens This Summer!
ToomeyAV is proud to announce its top selling interactive flat screens this summer! The Hitachi, the Vivitek and the Clevertouch are the three big names this year. There are many things they share and some things they don't but before we look at these brands, let's do some revision on the interactive flat screen in general.
What Exactly Are Interactive Flatscreens?
It comes with many names: interactive flat screen, interactive touch panel, interactive touch screen and interactive flat panel display. And there are many brands: Hitachi, Vivitek and Clevertouch amongst others. So, what exactly are they and what is so great about them? The answer is simple. The interactive flat screen is basically a large, powerful and robust iPhone, iPad or tablet. Ask yourself, what is so great about your iPhone or tablet? It allows you to easily manipulate what is on the screen with the use of a single finger.
Versatile and Powerful
The flat panel is ideal for use in the classroom. It is also a very powerful tool for business presentations, product launches, conferences and many other activities. Indeed, the touch screen is as versatile as it is powerful.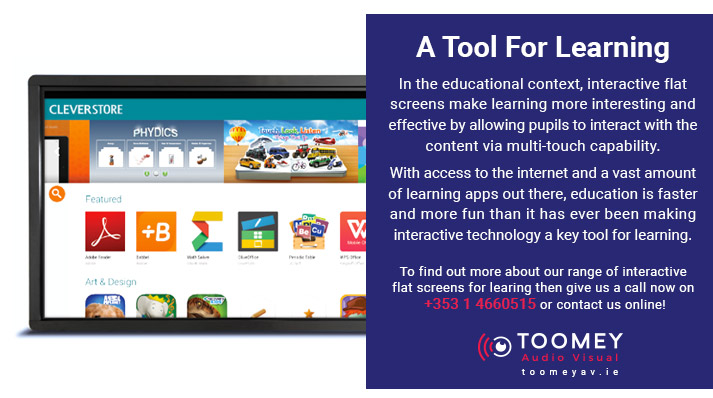 A Tool For Learning
In the educational context, interactive flat screens make learning more interesting and effective by allowing pupils to interact with the content via multi-touch capability. With access to the internet, cloud computing in the classroom and a vast amount of learning apps out there, education is faster and more fun than it has ever been making interactive technology a key tool for learning.
Interactive Flat Screens Encourage Teamwork
For business meetings, presentations, product launches and conferences the interactive flat screen has also been working its magic. Content can be summoned and manipulated with speed and ease. On screen annotation and wireless file sharing allow a complete collaborative solution to engage all participants in the event. The interactive flat screen encourages teamwork, creativity and collaboration, which are at the heart of successful business meetings and events.
Hitachi, Vivitek & Clevertouch
As far as brands go, the three top sellers at ToomeyAV this summer currently are Hitachi, Vivitek and Clevertouch. Each offers amazing 4k resolution, wireless connectivity and a 5 year onsite warranty. The Vivitek and the Clevertouch have android on board, a powerful technology that allows you to use the flat panel independent of your laptop. The Clevertouch includes extensive educational software, which is one of the reasons why, at €3200, it is more expensive that the Hitachi and Vivitek. The Vivitek goes for €2775 and the Hitachi will cost you €2249. All three are available in 65" or 75" and are installed on solid wall and available for summer ICT installation!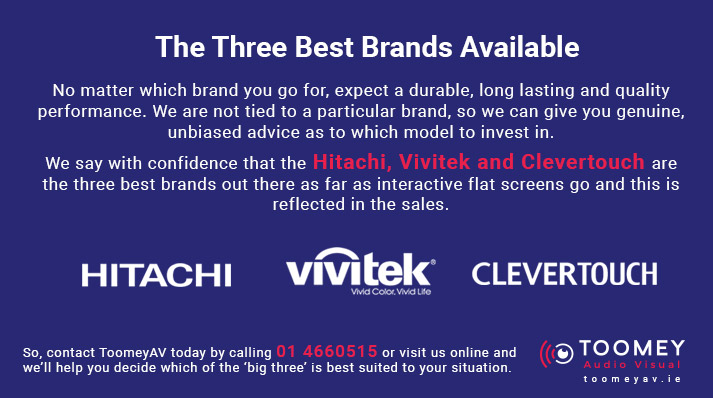 The Three Best Brands Available
No matter which brand you go for, expect a durable, long lasting and quality performance. We are not tied to a particular brand, so we can give you genuine, unbiased advice as to which model to invest in. We say with confidence that the Hitachi, Vivitek and Clevertouch are the three best brands out there as far as interactive flat screens go and this is reflected in the sales.
So, contact ToomeyAV today by calling +353 1 4660515 or online and we'll help you decide which of the 'big three' is best suited to your situation.