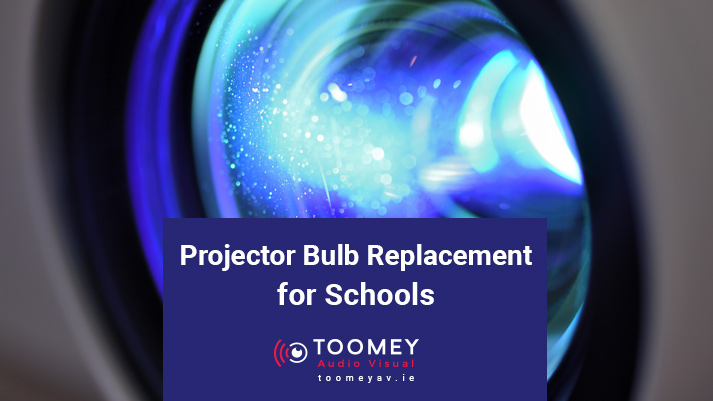 03 Jul

Projector Bulb Replacement for Schools
Replacement Projector Bulbs for Schools
Projectors have come a long way in the last couple of decades. They are not nearly as troublesome as they used to be. A smooth operation is the norm in schools and colleges across Ireland these days. The only real issue with them is that the bulb needs replacing every now and then.
Replacement Lamps for Every Make & Model of Projector
Here at ToomeyAV we make this task as easy as possible by offering replacement projector lamps for every make and model of projector out there. Also, our order process is 100% safe and easy. Simply select the projector make and model, pay securely with Realex and the lamp ships as soon as possible – usually the next day.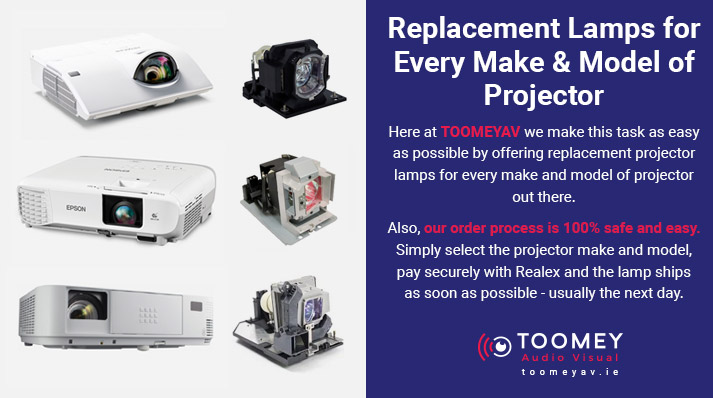 Hassle Free Buying Process
We cater for thousands of different projectors, so the chances are we have what you need. We are proud to offer this swift, secure process on our website. We want to ensure that your projector lamp is replaced as quickly as possible with a minimum of fuss. We have created a hassle-free buying process because we know that you don't have the time to search the internet for a particular make and model and then find out where you can buy it from. When we say we have bulbs for every single make and model, we mean it! We will ensure that your projector lamp arrives as soon as possible after ordering which most bulbs being dispatched the following day if in stock.
Easily Replace Projector Bulbs
The bulb is possibly the most important part of the projector. Without the lamp throwing light on the projector screen, nothing will be displayed. They are delicate and highly susceptible to damage. Luckily, they are also easily replaced, requiring little technical knowledge. In three or four days you will have a brand-new projector bulb up and running.
We Have the Projector Lamp You Need
Projectors have been used in the work and learning environments for many decades and today they are as popular as ever. We pride ourselves on supplying replacement projector bulbs for schools, colleges and businesses across Ireland. Whether it is a white board projector, a school hall AV projector, a conference room projector or a cinema projector, we have the bulb you need.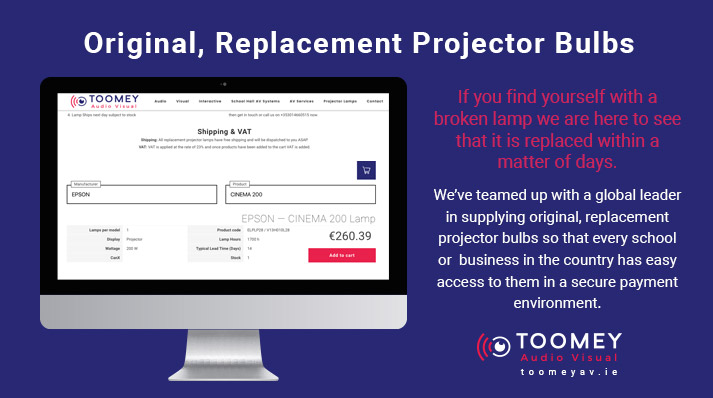 Original, Replacement Projector Bulbs
The projector lamp is the mind of the projector: without it nothing happens. If you find yourself with a broken lamp we are here to see that it is replaced within a matter of days. We've teamed up with a global leader in supplying original, replacement projector bulbs so that every school or business in the country has easy access to them in a secure payment environment.
Order Projector Bulbs Online
So, if you need a projector lamp replaced today, simply order from our site or if you aren't sure about which make and model you have or how to install the lamp, get in touch with us now by calling +353 1 4660515 or online and talk to the experts.