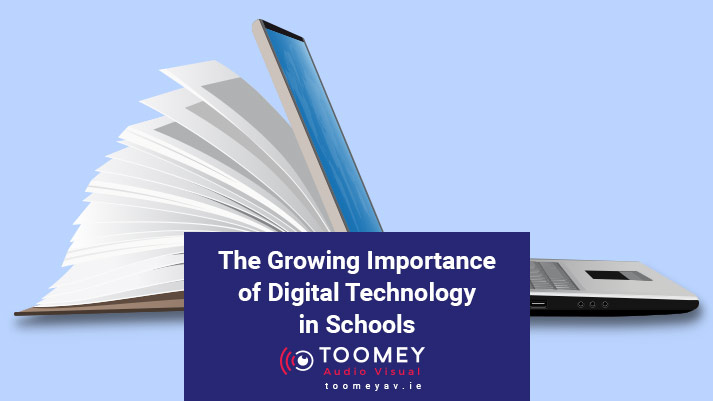 03 Sep

The Growing Importance of Digital Technology in Schools
"ICT can and should play a variety of roles inside a school. Some of the more important ones are pedagogical, cultural, social, professional, and administrative. ICT, if sensibly deployed and with carefully selected software, can positively affect many aspects of school life, from a healthy questioning of present teaching practices to a gradual improvement of the quality, scope and depth of the learning environment, as well as to provide a remarkable opportunity for teachers' development."
This quote, taken from the research paper 'Technology in Schools: Education, ICT and the Knowledge Society' (Hepp. Hinostroza. Laval. Rehbein. 2004), couldn't be more apt for this emerging sector which we are passionate about.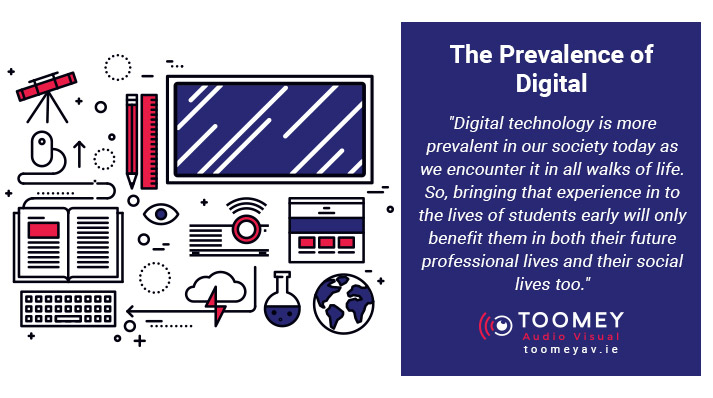 The Prevalence of Digital
A child's journey through their school years must always have the focus of an enriching learning experience. Digital technology is more prevalent in our society today as we encounter it in all walks of life. So, bringing that experience in to the lives of students early will only benefit them in both their future professional lives and their social lives too. A lot of older students in university for example have their own tablets and laptops at lessons for speedier notetaking as well as linking with the course materials. Creating an early technological experience for pupils ensures they are computer literate for whatever comes their way in future. Teachers have been quoted stating how some shy, introverted students are much more engaged with group and class activities during lessons as they're used to using technology from say a computer game which translates to a lot of the tech being used in classrooms today.
Springboard Your School With Digital
Not only can digital technology enhance teachers and students learning experiences, but it can also springboard your school to new streamlined, professional levels. With interactive flatscreens in the classroom becoming the norm a school can also invest in digital signage for around the halls of the school, the auditorium, the canteen. They can all display a message concurrently or varying messages depending on what message you'd like to get across to staff and students. Reminders for upcoming events. Instructions on any new safety protocols once we ease back to normality after Covid-19 restrictions are lifted.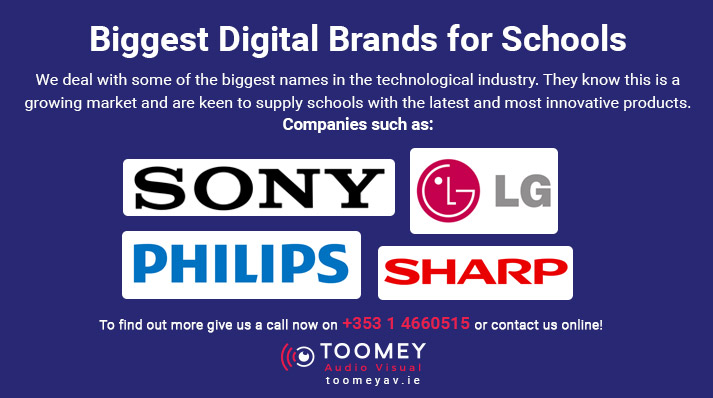 Biggest Digital Brands for Schools
We deal with some of the biggest names in the technological industry. They know this is a growing market and are keen to supply schools with the latest and most innovative products. Companies such as Sony, LG, Phillips and Sharp are leading brands with great technology which is school ready.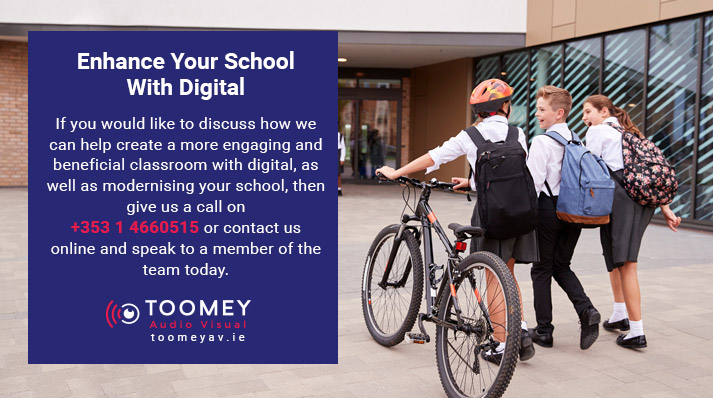 Enhance Your School With Digital
If you would like to discuss how we can help create a more engaging and beneficial classroom with digital, as well as modernising your school, then give us a call on +353 1 4660515 or contact us online and speak to a member of the team today.