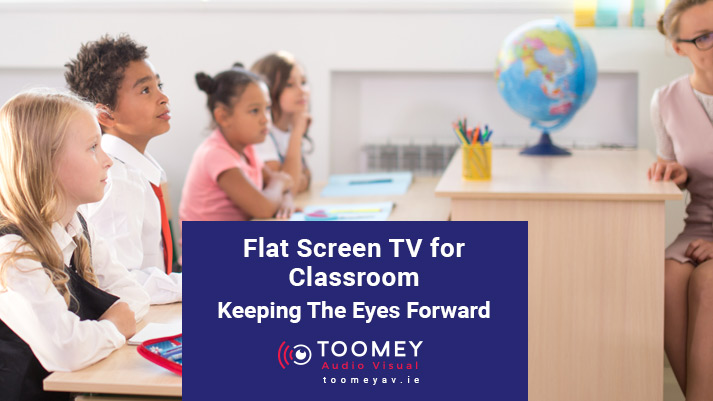 10 Mar

Flat Screen TV for Classroom – Keeping The Eyes Forward

Here at ToomeyAV we have an abundance of technologies to suit your educational needs and one of those, the flat screen tv, could benefit your classroom and students in ways you may not have fathomed. In this post we'll detail why flat screen TVs for classrooms are a useful tool in the arsenal when it comes to keeping student eyes facing forward, read on.
Flat Screen TVs for Classrooms
Not only do flat screen TVs for classrooms draw more attention from students as well as driving up the collective participation, but they also have economic value for each school as flat screen TVs in the classroom are cost effective and easily replaced. They're also a low cost to run option. When you consider how many classrooms a typical school has and their budget a flat screen TV is a viable option for any classroom.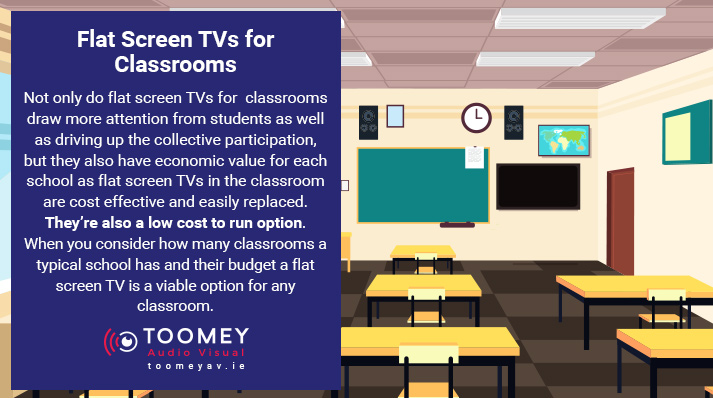 Flat Screen TV Options for Classrooms
We have many options in the flat screen department to suit any of your needs. From the commercially used LG 43" which has multiple connectivity options as well as a 2-year warranty. This model is a much relied upon option in the commercial sector. We also have the Sedao which comes in four sizes ranging from 49"-75", all of which come un UHD 4K resolution. The Sedao models also come with a 5-year onsite warranty service.
And, lastly but not least, we have two Phillips flat screen TV options. The first is the 55" HD LED TV which has stunning clarity and also has Smart TV apps. The Phillips 65" 4K UHD model does what it says on the tin, it has a 4K resolution which when viewed in this large format stuns both teachers and students alike. We offer a full av installation and AV maintenance service with all our models. So, you can rest easy in the knowledge that you'll have a hassle-free point to point service.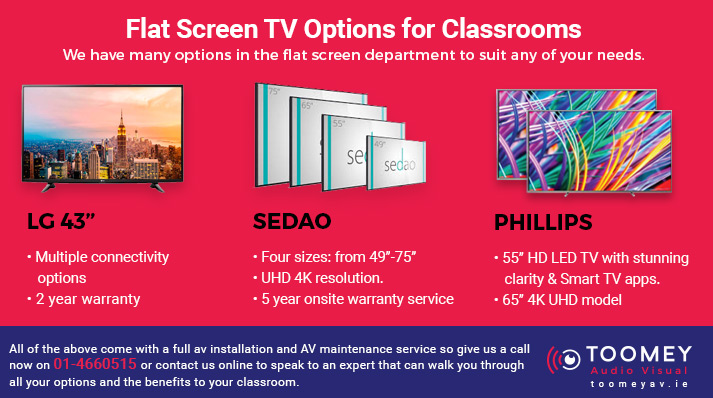 Range of Mounts for Flat Screen TVs
Our TV models also have a range of flat screen mounts and trolleys available to your classroom. We can fit the flat screen TV to the wall of your classroom with a fixed mount or a swivel bracket which allows your teachers to move the tv angle should they need to. If you have a stud or partition wall that won't hold the weight of a tv we also offer floor to wall mounts in both an extendible height and fixed height option. If you would prefer your flat screen TV and teachers to have more freedom we also offer mobile options such as the Electric Height Adjustable Trolley which affords the classroom the option to move wherever needed, even to other classrooms. This also comes in a Fixed Height Trolley option if no adjusting the height is needed.
Flat Screen TVs for Irish Classrooms
If you're interested in finding out more about flat screen TVs for your classroom then give us a call now on 01-4660515 or contact us online to speak to an expert that can walk you through all your options and the benefits to your classroom.
Make sure you don't miss out on future blog posts by joining our mailing list now!