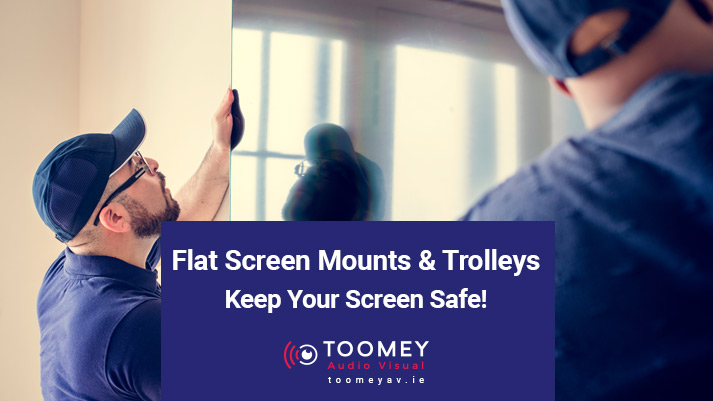 15 Aug

Flat Screen Mounts and Trolleys: Keep Your Screen Safe!

Flat screens and interactive touch screens do not come cheap. They are such powerful and versatile machines that this is to be expected. They also are incredibly durable and long lasting but, having said this, you wouldn't want your brand-new screen to take a fall and risk being damaged both externally and internally. Your beautiful new flat screen deserves the right mount to ensure that it stays beautiful and new.
Flat Screen Mounts & Trolleys Available
There are so many different options out there that it is easy to choose the wrong kind of mount and risk disaster. That is why we've put together this post on the various mounts and trollies available and the screens they are meant for.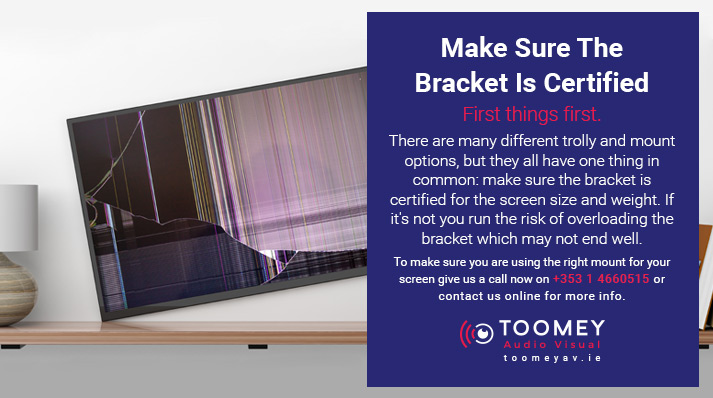 Make Sure The Bracket Is Certified
First things first. There are many different options, but they all have one thing in common: make sure the bracket is certified for the screen size and weight. If it's not you run the risk of overloading the bracket which may not end well. So, with this in mind, let's dive in and have a look at what's available to you.
The Standard Flat Screen Wall Mount
The standard flat screen wall mount is designed for solid concrete or brick walls. It is important to get this mount fitted by a professional for maximum safety and security. When you are dealing with this kind of wall, a good, solid and strong fit is essential for both the safety of your screen and the user.
The Floor to Wall Mount
The floor to wall mount is designed for partition, stud and prefab walls. It works by dispersing the weight to the ground, thus relieving the stress on the wall fixing points making it the ideal solution for these kinds of materials.
Adjust the Height of the Flat Screen
The height adjustable floor to wall mount has an inbuilt electric lift, allowing you to adjust the height of the flat screen. And the height adjustable table mount allows you to present your screen on a table which is also height adjustable.
Now, let's have a look at the trolley options that are available to you.
Fixed Height Trolley for Flat Screens
The fixed height trolley is the least expensive trolley and, also, the most popular. If you want a good, robust trolley that will keep your screen safe this one won't let you down.
Moving Your Screen Between Rooms
The electric height adjustable trolley is an ideal solution if you plan on moving your screen between rooms. It can be lowered and raised to suit kids and teachers respectively. And the low height electric height adjustable trolley is perfect for kindergarten or junior classrooms as well as play areas.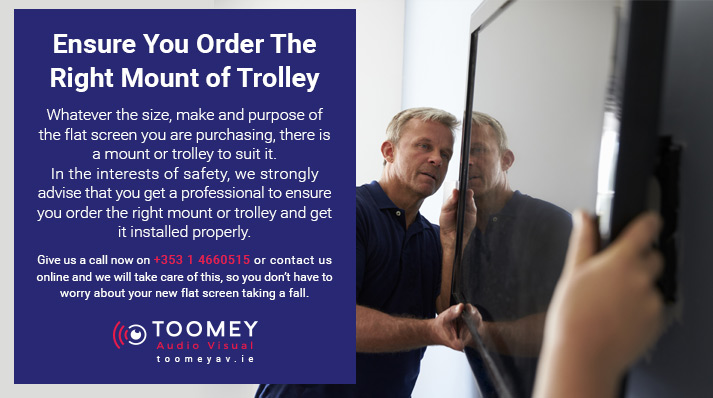 Ensure You Order The Right Mount of Trolley
Whatever the size, make and purpose of the flat screen you are purchasing, there is a mount or trolley to suit it. In the interests of safety, we strongly advise that you get a professional to ensure you order the right mount or trolley and get it installed properly. Give us a call now on +353 1 4660515 or contact us online and we will take care of this, so you don't have to worry about your new flat screen taking a fall.
Make sure you don't miss out on future blog posts by joining our mailing list now!