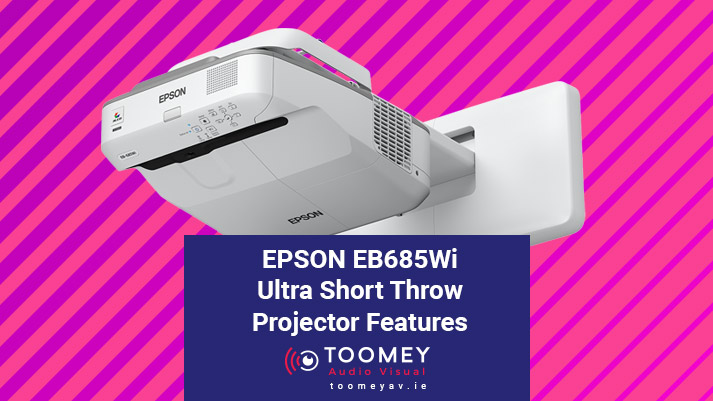 28 Jan

EPSON EB685WI Ultra Short Throw Projector Features

At Toomey we supply an abundance of technology to schools. School Projectors are one of our best selling products and the EPSON EB685WI ultra short throw projector is the most popular in our fleet. Epson is a trusted brand known worldwide for quality products and as the EB685 is our most popular we thought we'd give a breakdown of some of its key features, so you know what you're getting.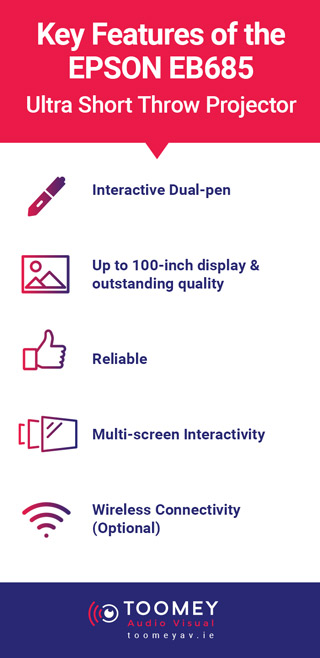 Key Features of the EPSON EB685WI – Ultra Short Throw Projector
Interactive: The interactive qualities of the EPSON Eb685WI make it the ideal teaching companion in Irish classrooms with projection software that allows teachers and students to share content simultaneously. And, with the moderator function you can rest assured that teacher remains in control of what content gets shared.
Up to 100-inch display and outstanding quality: Epson's 3LCD technology ensures high-quality images with equally high White and Colour Light Output for vivid colours and bright images, even in daylight, and three times brighter colours than competitive projectors. With a scalable display size of up to 100 inches, two types of content can be displayed using the split screen without compromising on quality.
Dual-pen Annotation: Epson's interactive pens are now even more responsive and easy to use when annotating directly on screen. With the new dual pens, teacher and student or two students can work simultaneously using different attributes.
Reliable: Project for longer with improved reliability and a longer projector lamp life of up to 10,000 hours in eco mode.
Multi-screen Interactivity: Combine two projectors to create one large interactive display. Multi-PC projection software allows teachers and students to share content simultaneously. The moderator function allows teachers to remain in control, choosing what content to display. Combine two projectors to create one large interactive display. Split-screen capability allows teachers to display two separate types of content simultaneously, such as a lesson plan from a PC and a still image or video clip from a document camera.
Wireless Connectivity (Optional): Wirelessly display content easily from a range of smart devices and Google Chromebooks using our iProjection App2.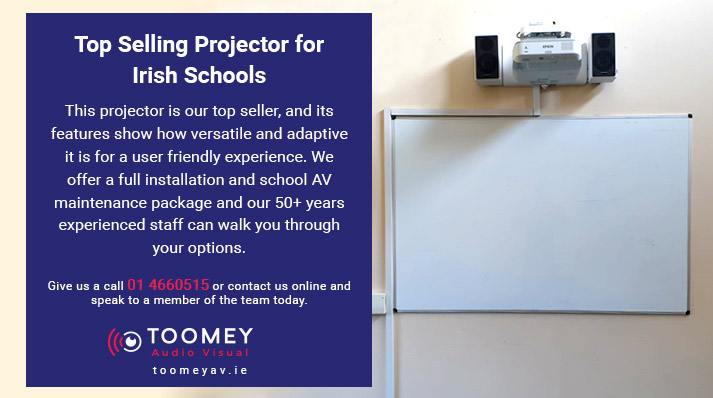 Top Selling Projector for Irish Schools
This projector is our top seller, and its features show how versatile and adaptive it is for a user friendly experience. We offer a full installation and school AV maintenance package and our 50+ years experienced staff can walk you through your options. Give us a call on +353 1 4660515 or contact us online and speak to a member of the team today.