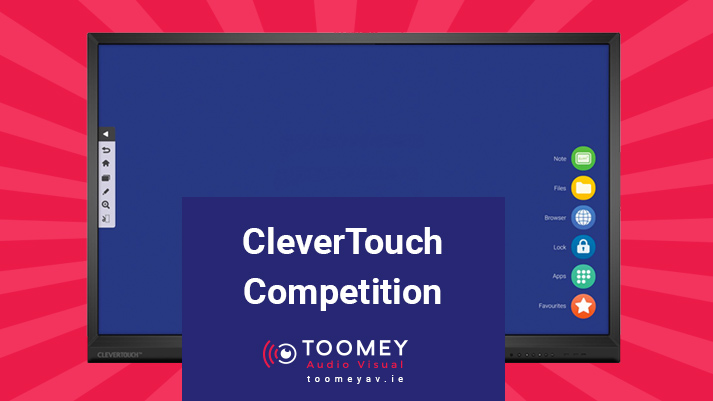 18 Jan

CleverTouch Competition to Celebrate 50 Years in Business

Here at Toomey AV, we are approaching our 50th anniversary in this business. As we are very proud and pleased about this, we are currently running a competition to mark the occasion. By entering your contact details and answering one simple question you could win a handsome Clevertouch 4k V-series 65" Interactive Flat Screen, worth €4000. A Real Kast wireless device is also up for grabs for five lucky runners up. The winner will be announced on the 27th of April this year. We've already had over 400 entrants. Why not put yourself in with a chance? It's free and it won't take a minute to enter.
CleverTouch – One Of The Best Touchscreen Brands
We are partnering up with Clevertouch to bring you this fantastic opportunity. Toomey's has been dealing with interactive flat screens since they came on the market and we have determined that Clevertouch is one of the best brands out there. They offer everything you want and need from a touch screen. This includes wireless connectivity, cloud functionality, the ability to mirror content on to a connected device and no need for calibration, ever. Clevertouch flat screens completely change the dynamics of a classroom by allowing increased collaboration and sharing. Once you have purchased one you will soon find out the myriad advantages of this powerful, revolutionary technology.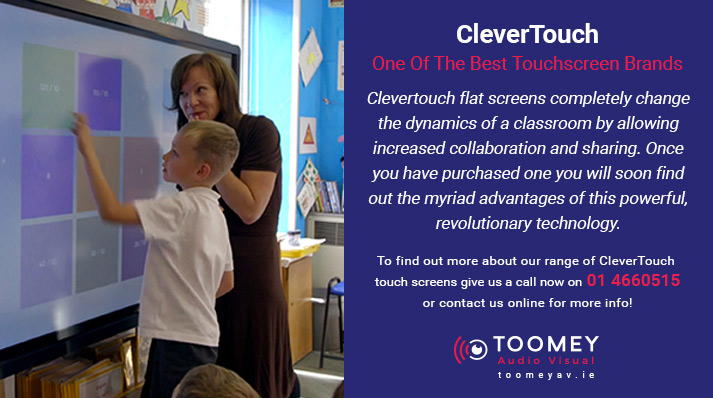 The Premier Supplier of AV Equipment to Schools
50 years is a long time for any business to be running but it is especially long for an Audio-Visual company, as the technology has changed and advanced so much over the decades. Throughout the IT revolution, we've managed to stay abreast of fast evolving technologies and maintain expertise in their installation and use. Established, reputable and reliable, we've been through it all and continue to be the premier supplier of AV equipment to schools in Ireland.
Fifty Years Worth of Experience & Savvy
Technologies come and go but Toomey's hasn't gone anywhere. We are like a rock: solid and trustworthy and we plan to keep it that way. 50 years in this business means a lot to us and it should mean a lot to you too! That's 50 years-worth of experience and savvy that you just can't buy. That is why we leave our competitors behind us. Our customers know that they will get a first-class product and service, always. If you are looking for professionalism and reliability, Toomey's is top dog.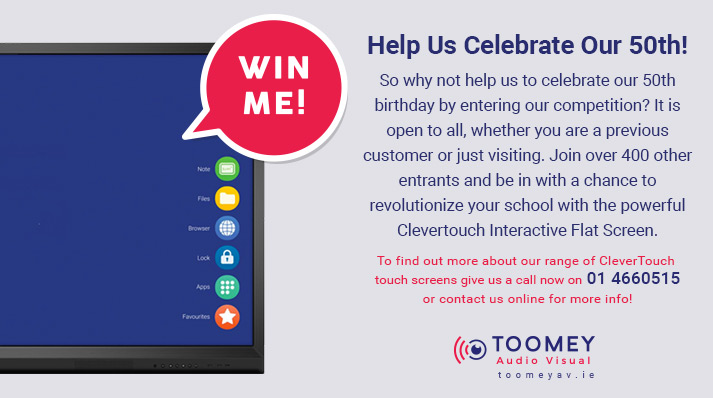 Help Us Celebrate Our 50th!
So why not help us to celebrate our 50th birthday by entering our competition? It is open to all, whether you are a previous customer or just visiting. Join over 400 other entrants and be in with a chance to revolutionize your school with the powerful Clevertouch Interactive Flat Screen.
We've had a great 50 years and are looking forward to seeing what the next 50 brings! If you'd like to find out more about what we offer give us a call now on +353 1 4660515 or contact us online!