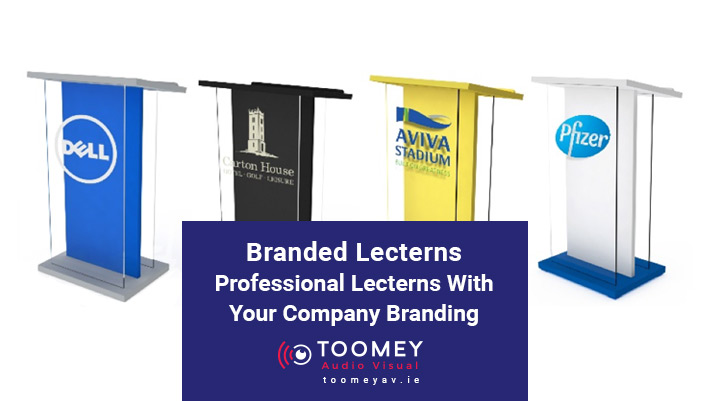 25 Feb

Branded Lecterns – Professional Lecterns With Your Company Branding

Toomey AV supplies you with AV Furniture and Audio Visual Lecterns for learning and communication spaces. Our aim is to rid the world of ugly Audio Visual furniture and so we are known for supplying attractively designed furniture that blends style with function, is highly customisable, but also competitively priced.
Sought After AV Furniture
Our brand of furniture is highly sought after and regularly specified in public sector tenders as we continue to design attractive furniture that satisfies the ever-advancing needs of the AV industry. With a reputation for high quality products and service, and AV furniture for every budget and application, our customers have no need to go anywhere else.
Branded Lecterns – Putting Your Brand Front & Center
Your meeting room or presentation space needs to say something about your school, company or brand. A professionally branded lectern makes a statement. It shows attention to detail. It subliminally reinforces your brand values to clients and audience members alike.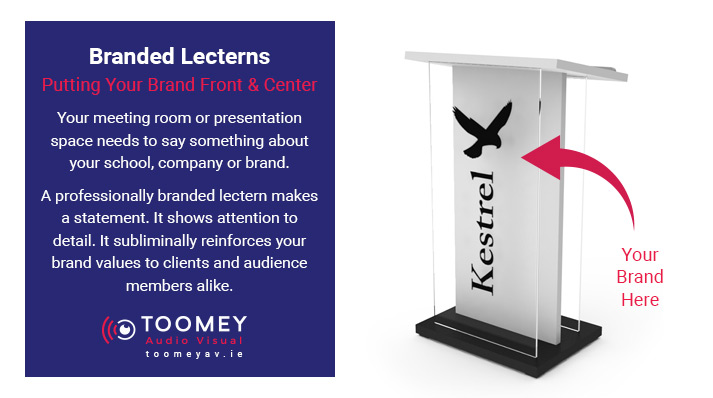 A Support Structure for Presentations
Another advantage of a branded lectern is that it also gives you something to hold on to. It is a good support both literally and psychologically. Giving a presentation without something to stand at can make you feel awkward and uncomfortable, especially if you are not used to being on stage. We offer neat, stylish, minimalist lecterns that will look superb on stage. They will add so much professionalism to your event.
Kestrel Branded Lecterns
The shining light in our range is the Kestrel lectern. This model has it all. This stunning lectern combines wood and acrylic with outstanding results. 3 elements of the lectern can be coloured; the base, the upright and the top. The wood finish can be delivered in any RAL colour and with a choice of 6 wood finishes, we can really provide furniture to fit into any environment. The front and back acrylic panels add a distinct touch of class to this fabulous unit.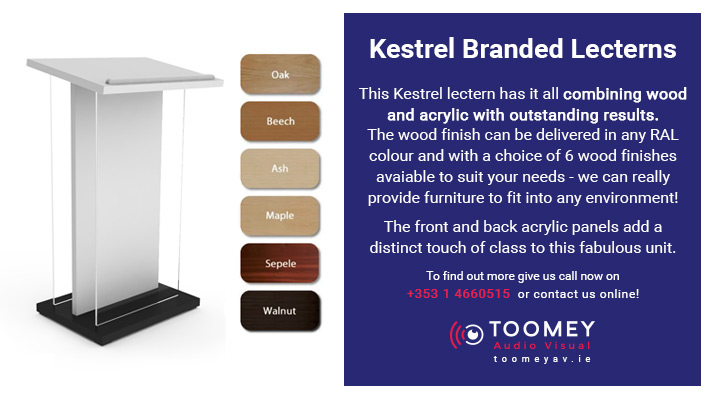 Represent Your Brand
All the branded lecterns shown in the photo are the exact same model of Kestrel. The Kestrel lectern allows you to represent your brand exactly as you want it. Tell us your logo RAL colour and supply us with your logo and we'll mock-up some renders for you.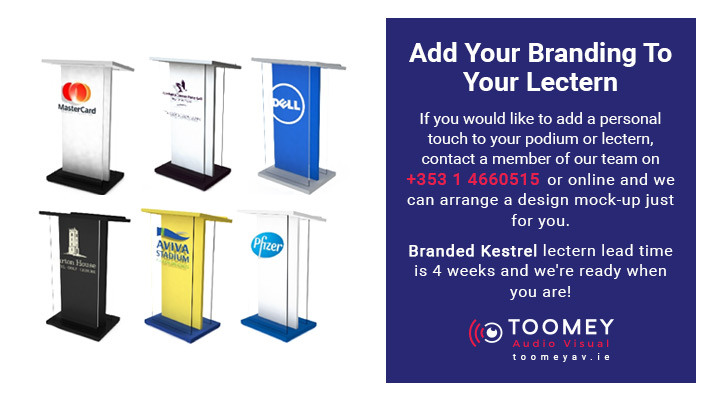 Add Your Branding To Your Lectern
If you would like to add a personal touch to your podium or lectern, contact a member of our team on 01 4660515 or online and we can arrange a design mock-up just for you. Branded Kestrel lectern lead time is 4 weeks and we're ready when you are!
Make sure you don't miss out on future blog posts by joining our mailing list now!