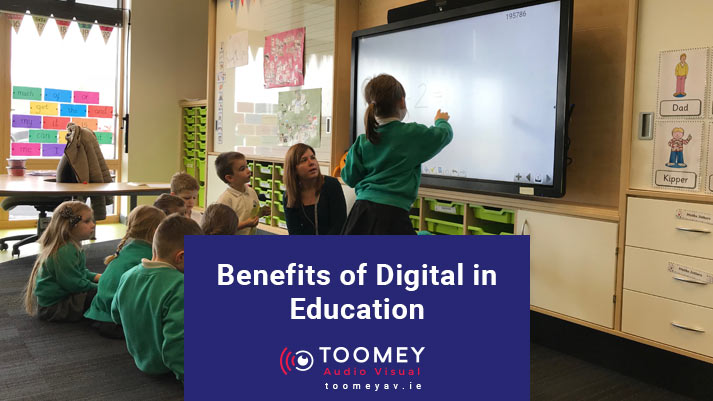 27 Aug

Benefits of Digital in Education

In an ever expanding field digital has continued to evolve at a faster rate than anything we have ever seen. We all have some form of modern tech in our homes and most have it right in their pocket with smartphones capable of most processes a computer can do. But there are still sectors of society lagging behind and arguably the most important, the education sector. In this post we'll outline some of the benefits of digital in education and how to harness them.
Impact of Digital on Classrooms
Studies have proven that digital in the classroom like interactive flatscreens and projectors shows quite the improvement in student interaction, learning outcomes, knowledge retention as well as the ease of getting the subject matter across in the most concise and simple way for teachers. Technology isn't something schools should fear. It's a new form of teaching and learning which must be embraced. One study (The Importance of Educational Technology in Teaching, 2015), which was published in the International Journal of Cognitive Research in Science Engineering and Education, cites
'The new generation of kids come ready to work with these new technologies, which play an important role in children's learning and acquiring various cognitive knowledge so that educational technology must be incorporated into future curricula. The application of educational technology enhances skills and cognitive characteristics.'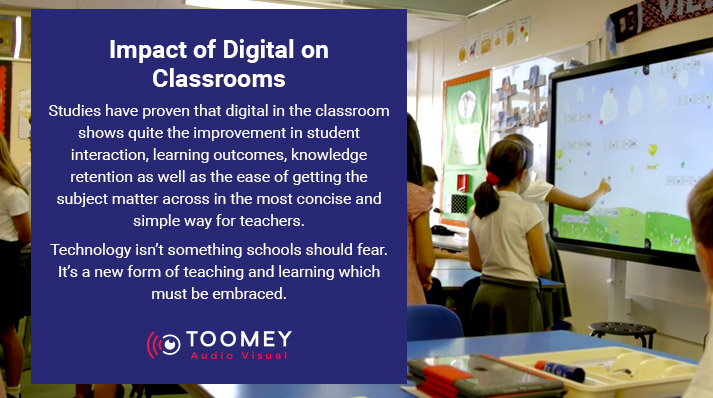 Digital in Education – Evening The Playing Field
It's only fair that all children have the same fair chance as every other child to learn and live up to their potential and technology in schools evens the playing field for students. They all have access to up to date technology in some form or another and learning by technological interaction in the classroom increases attention spans as well as student participation. Students are able to retain more information as they have all the teachers notes and subject matter right in front of them on screen allowing them more time to absorb lessons.
A Learning Style for Every Student
One major disadvantage of the old school methods of teaching is the one size fits all approach. Not all students learn the same way or in fact at the same pace. With technology children can learn in their own style and feel more confident in their own ability and learning trajectory rather than comparing themselves to others in the class if they fall behind. Teachers can also finetune lessons to suit any given students' method of learning increasing each particular child's future prospects.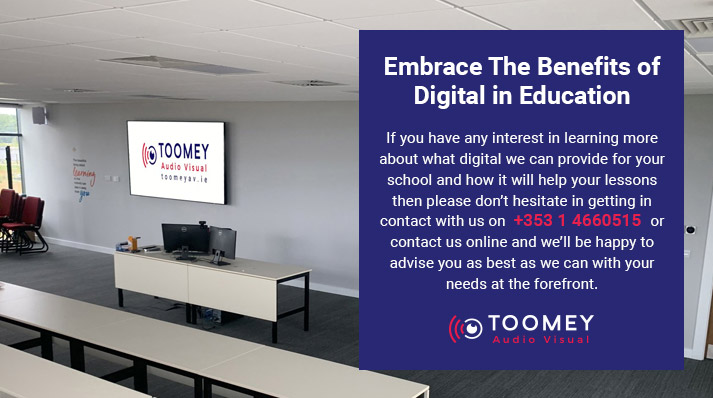 Embrace The Benefits of Digital in Education
If you have any interest in learning more about what digital we can provide for your school and how it will help your lessons then please don't hesitate in getting in contact with us on +353 1 4660515 or contact us online and we'll be happy to advise you as best as we can with your needs at the forefront.