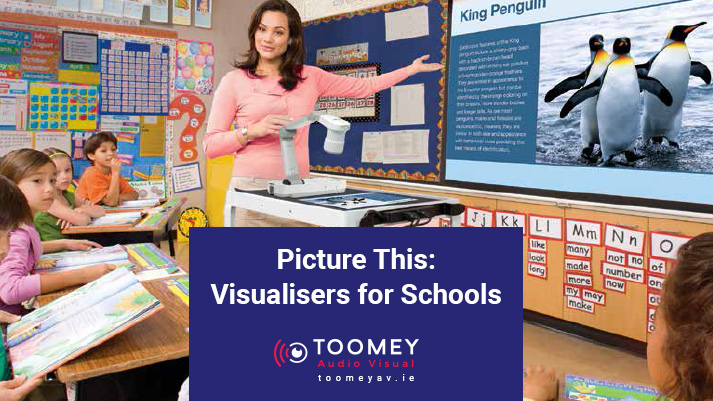 13 Jul

Picture This: Visualisers for Schools
Visualisers For Schools That Deliver
Visualisers are very handy tools to have in the classroom. They offer a very fast and convenient way to capture and display images. You might want to highlight some text or graphic from a book or you might want to show an object. Whatever it is you wish to display the visualiser will deliver. The ease and simplicity of operation ensures that you will be capturing images in no time.
The Visualiser Will Make Life Easier for Teachers
Visualisers come with a powerful zoom and focus capability, so your pupils will be able to see the image clear and closeup. The visualiser will make life easier for teachers across a range of disciplines but, in particular, it lends itself to science subjects. Science is based on observation and this is precisely what the visualiser does. Subjects like physics and chemistry involve much experimentation. Make sure your pupils know exactly what to expect by visualising it. Teachers usually have access to all sorts of objects that demonstrate scientific principles. By making these objects easier to observe you will save time and make life a lot easier for your students.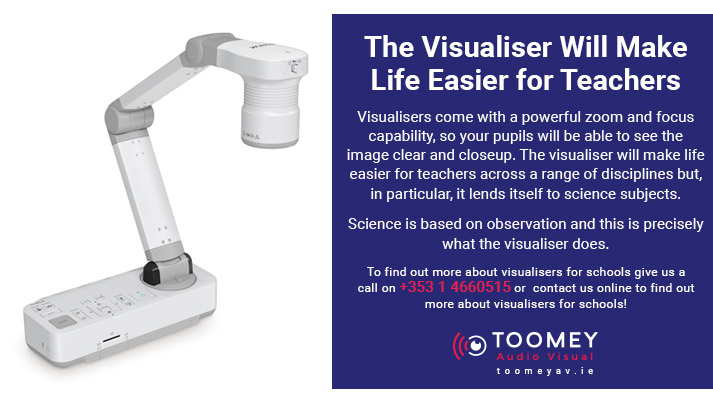 A Picture Paints A Thousand Words
Visualisers will also benefit teachers of other disciplines such as English, History and Geography. A picture paints a thousand words. Often you can make a point quicker and more effectively with the aid of a picture or photograph. It helps to get the message across. Why waste time and energy setting up a traditional projector when the visualizer will do the job with half the effort.
Visualisers – A Powerful Educational Tool
The most attractive feature of the visualizer is its convenience. They are so easy to manipulate and operate and are so practical you won't know how you got on without one for so long. It is a powerful and enriching educational tool and, if you are an educator, we recommend that you invest in one soon.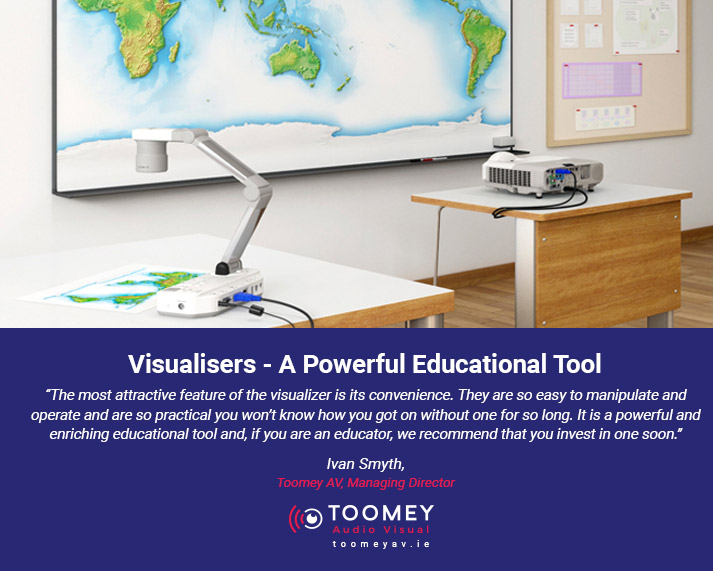 State of the Art, High Performing Visualiers
At Toomeyav, we offer two, state of the art, high performing visualisers. The Lumens DC 125 or 'Ladibug' portable visualiser is like a cross between a lamp and camera. Some of its highlights are a joint free flexible gooseneck which is easy to manipulate, hands free auto focus, image autotune and a QXGA/Full HD 1080p output resolution. It is also compatible with all major brands of projector and IFS. The Epson ELP DC20 has full HD images, 12x optical and 10x digital zoom, microscope attachment for closeup images as well as a 72hour time lapse video.
Clever & Convenient Teaching Tools
So, go ahead and make life easier for both your teachers and pupils by investing in one or more of these clever and convenient teaching tools. We say without any hesitation that you will get many years of trouble free use out of them. Interested? Give us a call on +353 1 4660515 or contact us online to find out more about visualisers for schools!