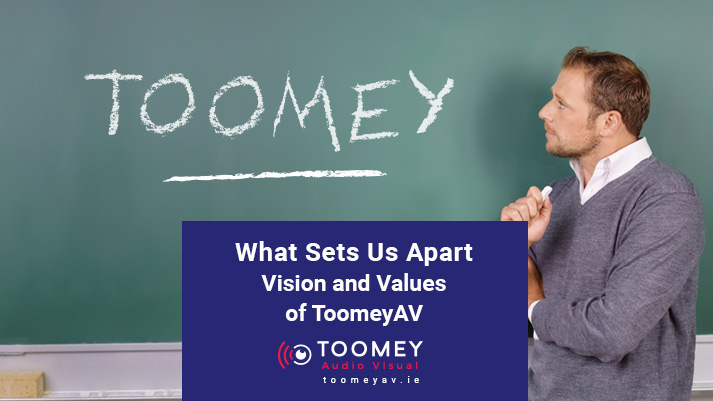 28 Jan

What Sets Us Apart: Vision and Values of ToomeyAV

In this blog, we write a lot about our products and ICT for schools. No surprises there. We are, after all, running a business. This post, however, will be a bit different as it's about the vision and values that drive ToomeyAV. We've been in business for over 50 years and are still as keen as ever to help schools across the country embrace ICT.
Tradition Leads to Trust & Respect
Some people get into this business for money. Others get into it because they want to make a meaningful contribution to society. We understand and share both these motives. But there is one thing that sets us apart from the competition: time. We've been doing this for a long time – over fifty years. Time leads to tradition and tradition leads to trust and respect. It is so rare in this age to find a business that is handed down through the generations. We are proud of our provenance. We strongly value the business and personal relationships with school leaders across Ireland that we have inherited and built up over time. We enjoy a friendly rapport with these school leaders. We treat them with familiarity and respect. We value the trust they have in us and we strive to maintain it.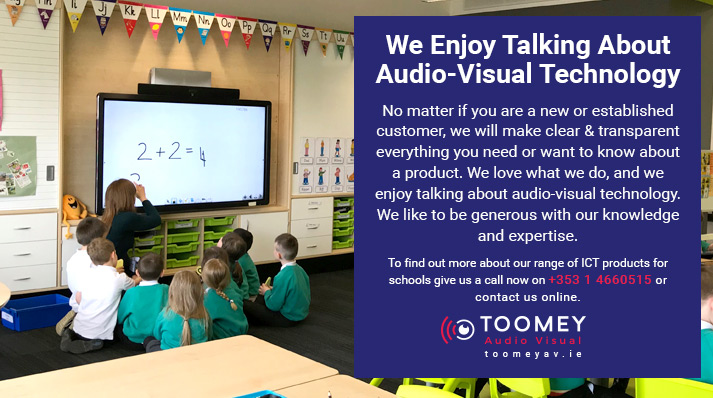 We Enjoy Talking About Audio-Visual Technology
Aside from tradition, another value we have is transparency. No matter if you are a new or established customer, we will make clear and transparent everything you need or want to know about a product. We will also give unbiased advice about what solution best suits you. We love what we do, and we enjoy talking about audio-visual technology. We like to be generous with our knowledge and expertise.
A Name You Can Trust
We also value our good name and reputation which has been earned over the years. In fact, that is probably our strongest value. We will never neglect or downgrade a customer as we want what you want and delivering it makes us feel good about ourselves. It helps to preserve our good reputation.
The Premier Supplier of AV Equipment to Irish Schools
These are some of the values that make us what we are: the premier supplier of audio-visual equipment to schools across the country. But what about vision? No business is complete without one. What gets us up in the morning and go to work, day after day? It's simple really. We want to provide schools with the best audio-visual technology on the market. Our vision is the daughter of memory. We remember how boring and pedagogical education used to be in this country. We want pupils and students today to have a more fun but also more effective learning experience. It is natural that each new generation should have it better and easier than the previous one. We want to play a part in making this so. We are a provider. That is our vision – to provide. And we possess the seriousness and responsibility of a good provider, a good parent.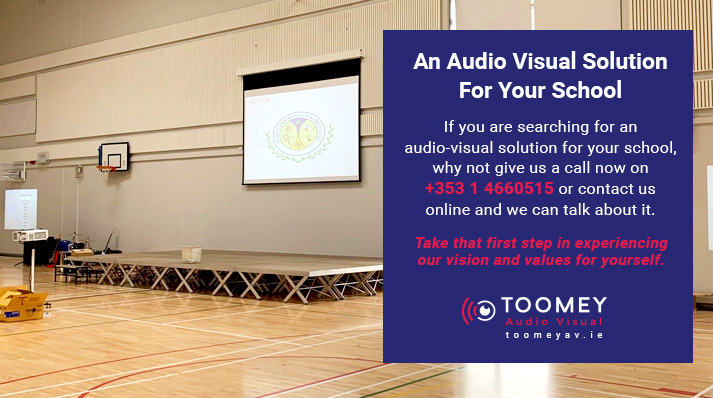 An Audio Visual Solution For Your School
If you are searching for an audio-visual solution for your school, why not give us a call now on +353 1 4660515 or contact us online and we can talk about it. Take that first step in experiencing our vision and values for yourself.
Make sure you don't miss out on future blog posts by joining our mailing list now!