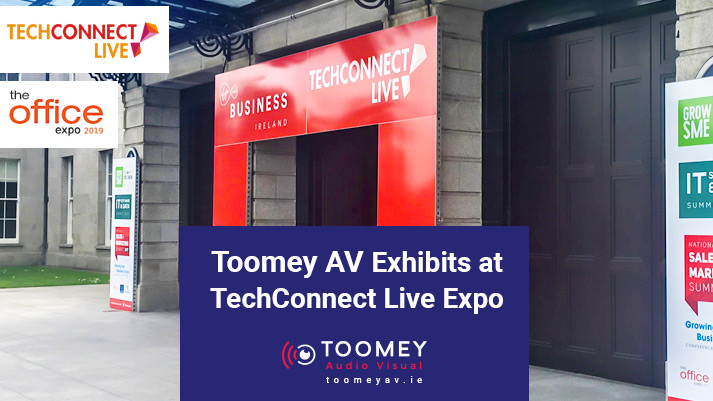 08 May

Toomey AV Exhibits at TechConnect Live Expo
Tech Connect Live Expo 2019
This year Toomey Audio Visual will exhibit at Tech Connect Live Expo as part of the The Office Expo in the RDS on May 30th.
The Office Expo is the largest event dedicated to the office sector in Ireland. It is part of Techconnect live and will see over 1000 CEO's, IT directors, procurement heads, finance directors, office managers, operation managers, PA's, EAs and administrative professionals gather to listen to over 50 talks and network with over 100 exhibitors showcasing the best in furniture & interior, IT & Automation, AV, Office Lighting, Storage solutions, Training Solutions, Office stationery and more.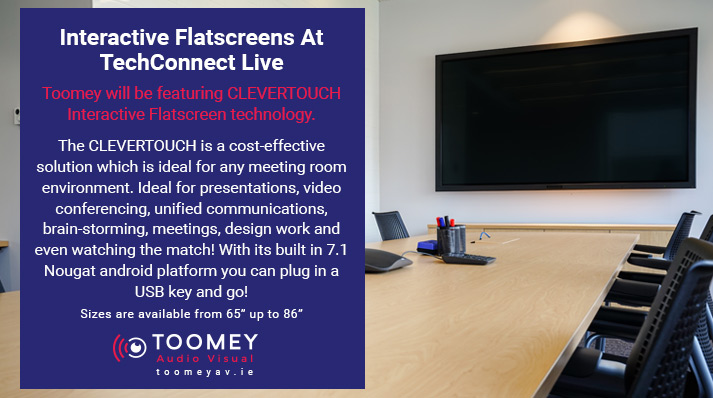 Interactive Flatscreens At TechConnect Live
Toomey Audio Visual will be featuring CLEVERTOUCH Interactive Flatscreen technology. The CLEVERTOUCH is a cost-effective solution which is ideal for any meeting room environment. Ideal for presentations, video conferencing, unified communications, brain-storming, meetings, design work and even watching the match! With its built in 7.1 Nougat android platform you can plug in a USB key and go! Sizes are available from 65" up to 86".
Benefits Of Interactive Flatscreens
There are many benefits of having an interactive flatscreen available for office use such as:
Stylish design
4K Resolution
Multi Inputs
Wireless casting with new CleverShare App
20 point touch
Inbuilt Android
Instant whiteboarding
USB functionality
Inbuilt Speakers
Simple & intuitive user interface
5 Year warranty
All this in a 65" package for under €3k (price includes installation onto a solid wall / excludes VAT).
Is It Time to Communicate IN The Digital Age?
Is your meeting room tired and out of date? Does connecting devices to the projector turn into a fiasco? Is your projector noisy and low quality? Is it time to communicate in the digital age? Toomey Audio Visual will simplify everything for you. Call us on 01 4660515 or contact us online to speak to a member of the team or call out to us in Baldonnell Business Park for a demo.
Don't miss out on future blog posts and be in with a chance to win a €100 voucher by joining our mailing list now!