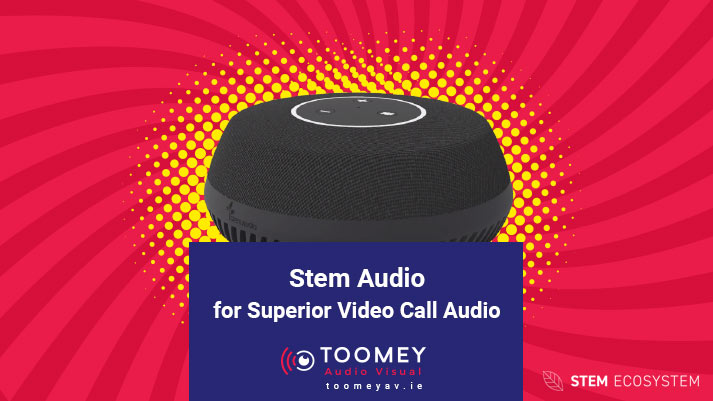 02 Dec

Stem Audio for Superior Video Call Audio

When it comes to larger spaces a basic speakerphone or webcam with an inbuilt microphone will simply not cut it. Stem Audio is the audio ecosystem that gives you the freedom to create, manage, and scale your collaboration space audio for an effortless experience in any room.
The Stem Audio Ecosystem
With Stem, you have the freedom to mix and match Ceiling, Table, Wall and Speaker to meet your needs for every room. Stem not only provides you with the freedom to customize your rooms, but the no-programming approach saves you time and money. Outfit all your conference rooms with great audio while at the same time staying within your budget. Let's meet the products that make up the Stem Ecosystem.
Stem Wall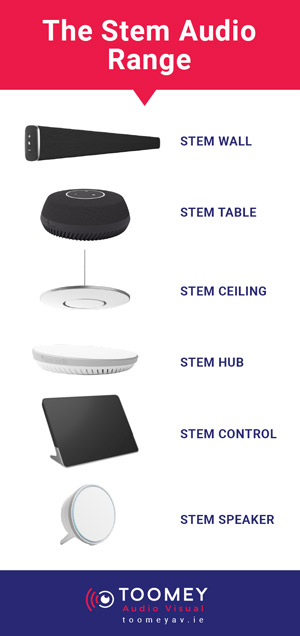 Optimized to sit on any flat surface or to be mounted on any wall, Stem Wall is a high-quality conferencing bar array that turns any environment into a professional conference room. Equipped with 15 microphones that perform real beamforming plus full-range speakers and subwoofers- the Stem Wall ensures everybody has a voice.
Stem Table
Optimized for tabletops and flat surfaces, Stem Table is a high-quality conferencing speakerphone that turns any environment into a professional conference room. Equipped with nine microphones that perform real beamforming plus an innovative downward-facing speaker for amplified performance, Stem Table takes the quality of your meetings to the next level.
Stem Ceiling
Stem Ceiling is an innovative microphone array that can be easily mounted on the ceiling of your conference or meeting room. With multiple beam settings to choose from, Stem Ceiling enables you to create the perfect high-quality coverage for every meeting space.
Stem Hub
When you have more than one device in a room or you need more than just USB connectivity, Stem Hub becomes the brains of the operation. Hub enables multiple units in a room to communicate with each other and function as one ecosystem. With USB Type B, Ethernet, Dante® (Hub only), VoIP and pluggable terminal blocks, Hub has all your bases covered.
Stem Control
Stem Control is a dedicated touch controller that connects to your network with a single Ethernet connection. Control allows you to access the Stem ecosystem platform to remotely manage the Stem devices in your organization or can be used as an in-meeting controller with your favourite video conferencing platforms.
Stem Speaker
Stem Speaker's innovative design gives you the option to mount the device on the ceiling, wall, or table for ultimate flexibility. With its powerful driver and built-in technology, Stem Speaker delivers an exceptional sound experience in any meeting room. As an ecosystem device, you can mix and match devices until your room is customized to meet your needs.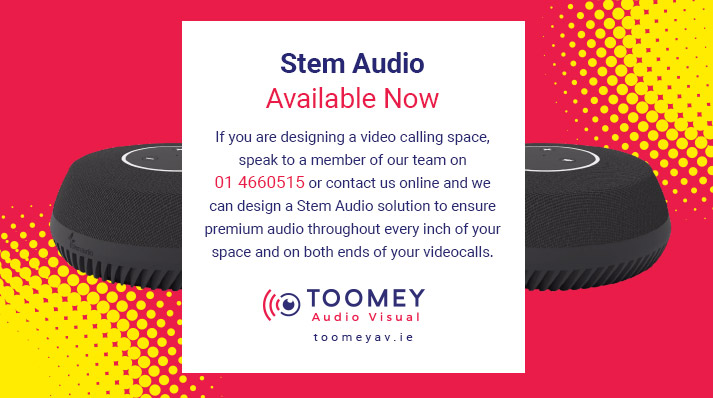 Stem Audio – Available Now
If you are designing a video calling space, speak to a member of our team on 01 4660515 or contact us online and we can design a Stem audio solution to ensure premium audio throughout every inch of your space and on both ends of your videocalls.