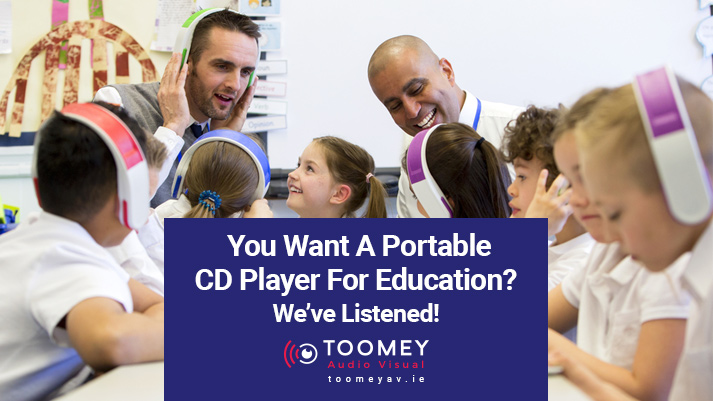 14 Mar

You Want A Portable CD Player For Education? We've Listened!

Toomey's have been supplying language equipment to Irish schools for 50 years. We understand the importance of portability & reliability when equipment is in day to day use. Portable CD players for education need to be robust and designed to take the wear and tear of day to day school use. If you are carrying a pile of books, CD's, copybooks and so on up and down the corridors, you need your language equipment to be lightweight and easy to manage.
Introducing The Barthe Language Equipment Range
With the discontinuation of the COOMBER 3325 portable CD player, we have sourced, tested and appointed a great new product line to fill the void. The BARTHE language equipment range, manufactured in France, is built with the teacher in mind. They sound great, are highly portable and are easy to use.
Portable CD Player Features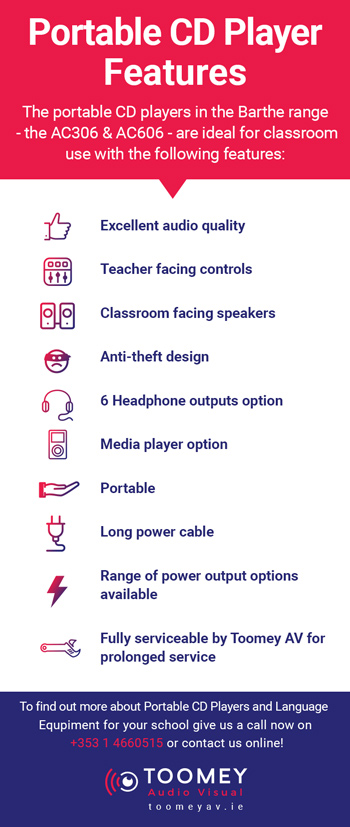 The portable CD players in the Barthe range – the AC306 & AC606 – are ideal for classroom use with the following features:
Excellent audio quality
Teacher facing controls
Classroom facing speakers
Anti-theft design
6 Headphone outputs option
Media player option
Portable
Long power cable
Range of power output options available
Fully serviceable by Toomey AV for prolonged service
BARTHE Range of Language Equipment
The BARTHE range of language equipment provides a solution for small classrooms, larger classrooms and portable PA systems.
The AC Range is small and punchy. Ample audio output for a standard classroom, line input for your phone or MP3 player and lots of other great options. Weighing in at 3.5 Kgs. They are ideal for classroom use.
The EDU Models provide more power for larger rooms and small halls. They inbuilt amplifier and PA facility is ideal for making announcements during exams. A useful feature. This unit offers greater power and is slightly larger in size.
The Portable PA System is larger with 120 watts of portable PA power and provides excellent audio quality for music & voice. The system includes inbuilt battery for portable outdoor use, two wireless handheld microphones as well as bluetooth connectivity.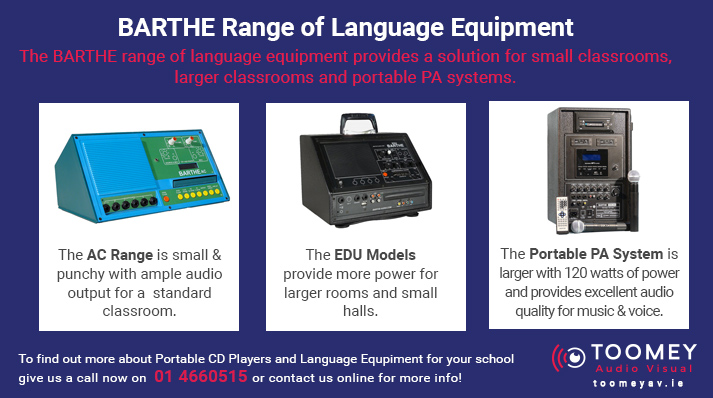 Trusted Suppliers of Portable CD Players & Annual Servicing
When you invest in your school with Toomey AV you know you can trust that you're going to get a quality product and quality service. As with all our products, Keith in our service dept. can service your equipment annually or as you require, so we can ensure your CD players, MP3 players and PA systems continue to serve you year after year. For servicing we can arrange to have your units collected (subject to cost) or you can ship them straight to us (just remember to include your name and return details!).
Find out more about the BARTHE range of language equipment here and get in touch by calling +353 1 4660515 or contacting us online to get a free quotation for your school!