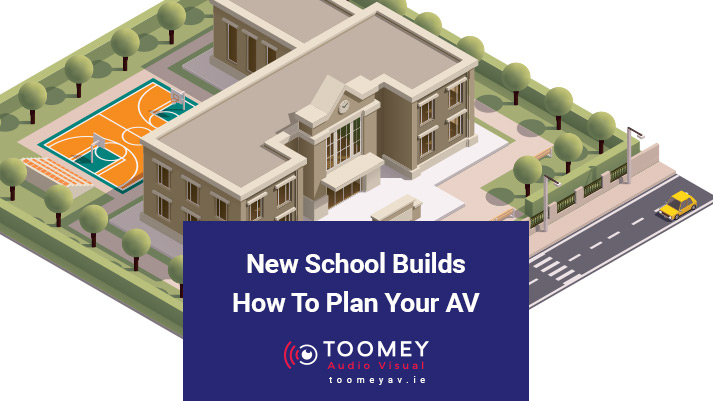 18 Oct

New School Builds – How To Plan Your AV

When contracts are awarded to builders and electrical contractors alike, they turn to us for expert AV consultancy and confidence that our team will delivery on performance, specification and budget.
AV Consultancy for Schools
The design and delivery of any AV solution for new schools can be met head on, whether it be interactive technology, video walls, PA & Audio systems or projection systems. Toomey AudioVisual is the leading provider of AV solutions for Dept. of Education new school builds and extensions. If your school is part of a building programme, we are a single point of contact for all your audio-visual requirements. We specialise in providing the following to new school builds.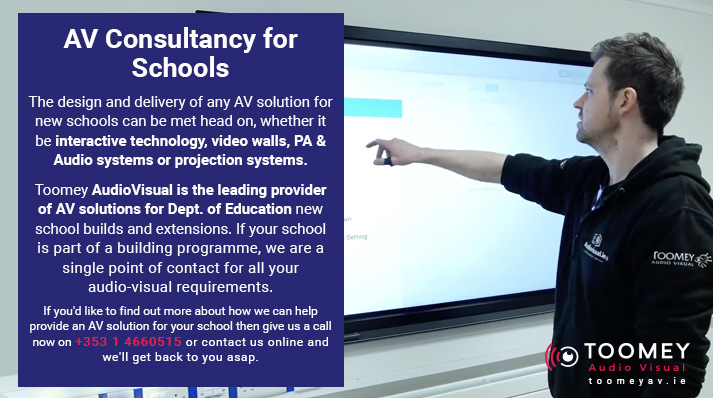 Classroom AV Systems
More and more schools are turning to ICT to help bolster their teaching offering and to provide better learning outcomes for students. This is most apparent in classrooms where the concept of BYOD is becoming more common place and high quality ICT equipment adorns classroom walls.
Integrated AV systems for classrooms including high quality 4k interactive and non interactive displays
Ceiling and short throw projection systems
Wall mounted speakers
Wireless device casting systems

School Hall AV Systems
The school hall can at times be an under utilised area of the school but once kitted out with a proper school hall AV system the idea of the dull school hall will be transformed!
Stunning LCD video wall and LED wall systems
Large format HD image projection systems
Large Screen projection
High quality audio systems suitable for everything from assembly to school concerts, perfect for use as a school have AV system.
Wireless projector connectivity and wireless microphones
Wallmount speaker and projector projection cages
Professional installation and client end user training
Onsite after sales support and maintenance
Digital Signage Systems
Versatile and easy to use these digital signage systems will make it easy for you to broadcast information to the student body at large via one central point. With crisp HD graphics, these machines are ideal for welcome screens, timetables and way finding info. They are a contemporary way to engage, inform and entertain visitors, staff and pupils alike. Cloud based portal makes updating easy when you are on the go.
What's the benefit of using Toomey AV?
Toomey AV have over 50 years of experience fitting out classrooms with the latest audio and visual equipment. We offer all the premium educational brands with EDU warranties and special education promotions. This means you get longer equipment warranties, longer lamp warranties and extended educational promotions available only through specialist EDU dealers.
We have 50 years of experience in this business. We know what we are doing.
We liaise directly with schools, architects, M&E consultants and relevant onsite contractors.
Our dedicated project management team is on hand 24/7.
We have deployed SAP ERP systems inhouse, which allow comprehensive tracking of all projects from start to finish.
We provide after-build onsite maintenance and support programmes.
We have multiple reference sites available on request.
We are not tied to any particular brand, therefore we can give you unbiased guidance on which technology best suits your needs.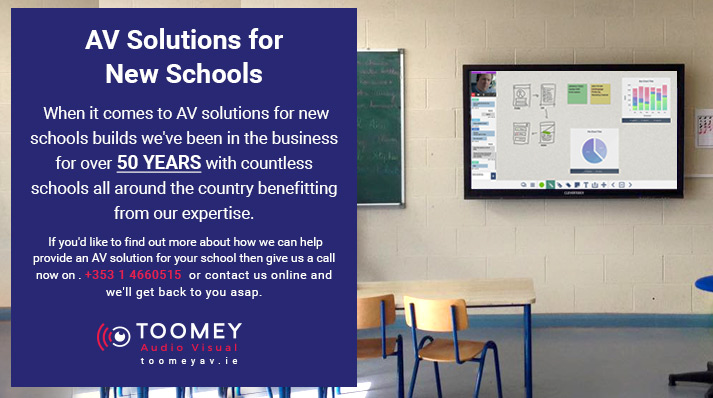 AV Solutions for New Schools
When it comes to AV solutions for new schools builds we've been in the business for over 50 years with countless schools all around the country benefiting from our expertise. If you'd like to find out more about how we can help provide an AV solution for your school then give us a call now on +353 1 4660515 or contact us online and we'll get back to you asap.
Make sure you don't miss out on future blog posts by joining our mailing list now!