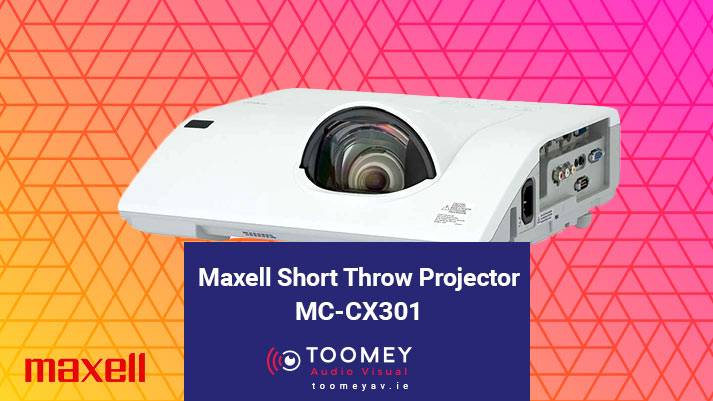 07 Apr

Maxell Short Throw Projector MC-CX301

Projectors have been the lifeblood of school lessons for generations. Everyone remembers their teacher struggling to work the projector at one point or another. For as long as we've been in business projectors have been around, to the point that we've been able to write the guide to projectors for schools. One of our best products is the MC-CX301 Maxell Short Throw 3LCD Projector and in this post we'll outline why it's a great pick for Irish schools.
The MC-CX301 Projector – Leaps And Bounds Above
The MC-CX301 is leaps and bounds above the projectors of old. It has up to a 10,000 hours of projector lamp life, not to mention 4000 hours of filter life. The contrast ratio is an eye watering 10,000:1 with an XGA 1024 x 768 resolution. Images up to 100″ diagonal and a wired LAN with 2 HDMI ports. A light output of 3100 ANSI lumens. A palette of 16.7 million colours. This projector also comes with a multitude of features (MyScreen, My Memory, My Button (by remote control), My Text, My Source, picture modes (normal, cinema, dynamic, blackboard, whiteboard, greenboard, daytime, photo), source naming (English), whiteboard, greenboard, daytime, photo), source naming (English), resolution setting, filter timer, standby audio, template, closed caption), outputs, picture modes and adjustments (Aspect Selection (Video/Data/HDMI), Mirror Reverse Image, Up-Side Down Image, Progressive Scan).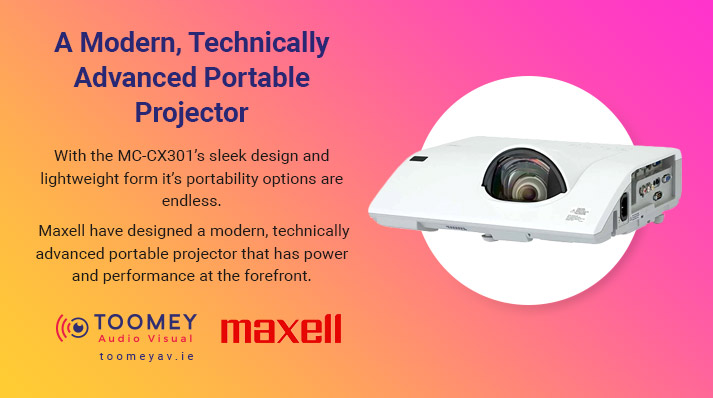 A Modern, Technically Advanced Portable Projector
With the MC-CX301's sleek design and lightweight form it's portability options are endless. Maxell have designed a modern, technically advanced portable projector that has power and performance at the forefront. With 2 USB-A ports and 1 USB-B port, audio output and input as well as analogue input this range of options are abundant.
Projector Repair & Maintenance Service
You needn't suffer from projector fear either as we offer an AV maintenance service with all our products. We can have you up and running in no time and keep your technology working smoothly throughout the year with our bespoke service. Our service not only encompasses the projectors longevity but it's optimal range and functionality by checking brackets, cables, picture alignment/calibration, AV cables and connections, lamp life as well as any firmware/software updates that are needed.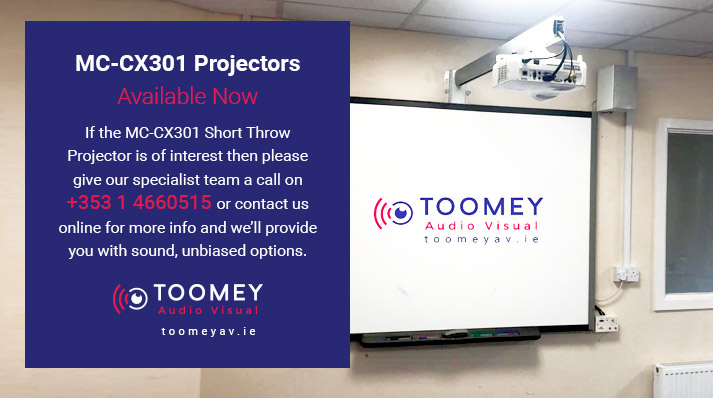 MC-CX301 Projectors – Available Now
We're proud of our 50+ years of experience in supplying schools with much needed technology to improve not only students lives and futures but to ease the burden on teachers and give them a helping hand in providing better lessons for their students. If the MC-CX301 Short Throw Projector is of interest then please give our specialist team a call on +353 1 4660515 or contact us online for more info and we'll provide you with sound, unbiased options.