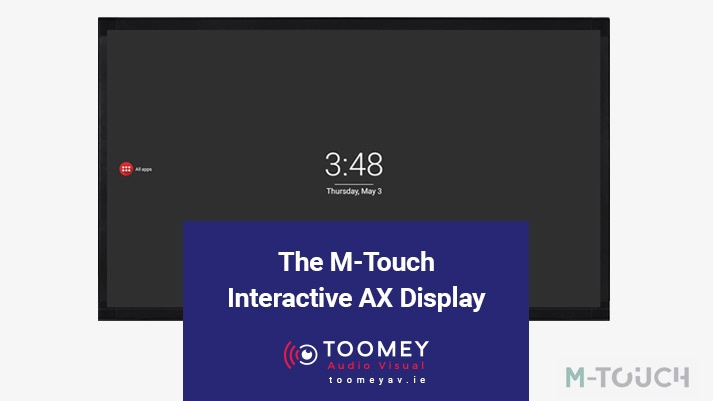 30 Oct

The M-Touch Interactive AX Display

The M-Touch Interactive Flat Panel Display gives you the flexibility to create your own custom solutions, be it for presentations, conferences or a learning environment. The M-Touch Interactive AX display is feature rich with a stylish 4K touchscreen that will run portrait or landscape, now available in both in 65″ and 75″. Read on to learn more about his powerhouse of a display from M-Touch.
The M-Touch Interactive AX Display Specs
The M-Touch is a rich stylish 4K touchscreen that will run portrait or landscape content. The M-Touch is a panel which in our opinion is packed with great features at a low cost.
10 point touch Toughened anti-glare glass
4K Ultra HD resolution
Freeze frame and other key features using remote control
5 year install and de-install warranty
NEW Run in Portrait or Landscape
NEW Whiteboard mode
Featuring Android 7.1.2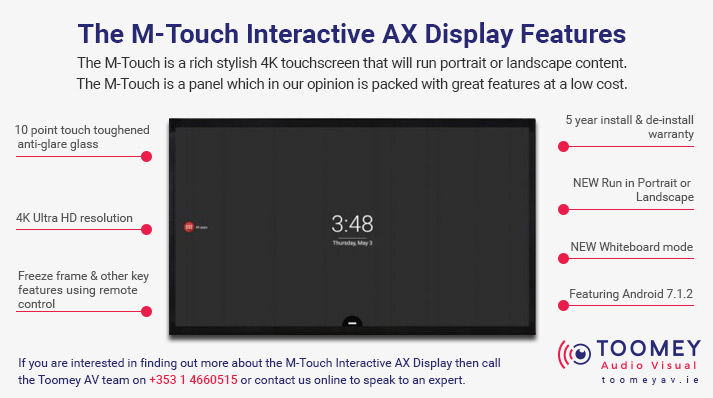 Interactive Flatscreens – Transforming Classrooms
These is no denying that the interactive flatscreen has transformed classroom technology by providing a solution that provides 4K image quality, no maintenance, no lamps, no filters and connectivity that far surpasses the humble projector. Lights can be left on and curtains open and most importantly no calibration and computer drivers are required. This is a very attractive proposition for any school and especially and IT department.
M-Touch Interactive Displays – A Superb Alternative
Sometimes the premium brand interactive panels such as Clevertouch and Promethean Activpanel are just beyond the budget, especially when multiple rooms are involved. The M-Touch provides a superb alternative high quality solution at a lower price point.
Benefit of M-Touch in Ireland
The big benefit of M-Touch over cheaper Asian imports is that it comes with a 5-year onsite warranty. This warranty, much like the Clevertouch warranty, is handled directly by experts on the ground in Ireland. What does this mean for you? It means your warranty is onsite. It means that if something goes wrong, AV technicians will travel to you and fix it in your classroom. No lifting it off the wall or sending it back to Amsterdam. This is a major consideration to factor in when considering which panel to purchase.
Our Favourite Features of the M-Touch
Not all interactive displays are they same with each having their own unique features and options and here are some of our favourite features on M-Touch Interactive AX Display.
M-TOUCH is available in 65" & 75" diagonal sizes. One of the unique features of M-Touch is that it can run in portrait and landscape. This provides lots of opportunities for various different display and signage applications. The onboard Android (version 7.1) is fast and powerful and the inbuilt WiFi Miracast allows the simple casting of Windows 10 PC. The commercial grade LCD is warrantied for 16 hours use a day, ideal for classrooms in use day and night!
Our Conclusion: The M-TOUCH is a great all-rounder. All things considered; M-TOUCH ticks a lot of boxes. The price is great and the features are all there.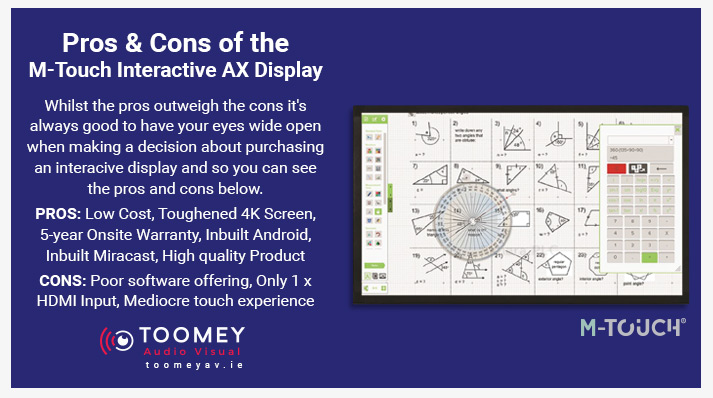 Pros And Cons of the M-Touch Interactive AX Display
Whilst the pros outweigh the cons it's always good to have your eyes wide open when making a decision about purchasing an interacive display and so you can see the pros and cons below.
Pros: Low Cost, Toughened 4K Screen, 5-year Onsite Warranty, Inbuilt Android, Inbuilt Miracast, High quality Product
Cons: Poor software offering, Only 1 x HDMI Input, Mediocre touch experience
M-Touch Interactive AX Display – Available Now
If you are interested in finding out more about the M-Touch Interactive AX Display then call the Toomey AV team on 01-4660515 or contact us online to speak to an expert or to have a look or order M-TOUCH.
Make sure you don't miss out on future blog posts by joining our mailing list now!