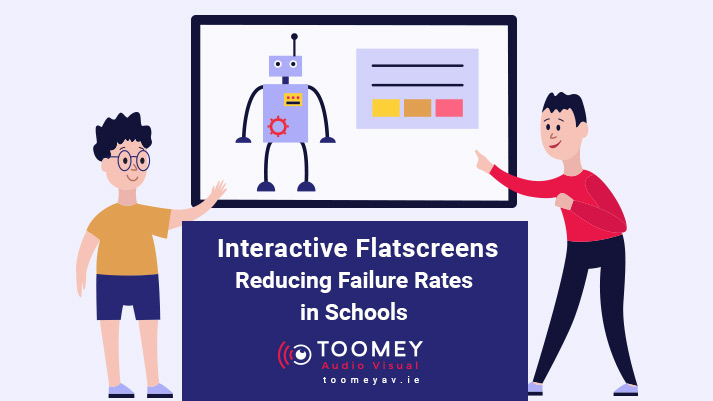 25 Mar

Interactive Flatscreens Reducing Failure Rates in Schools

The classroom is where everybody's future starts. Parents, teachers and children alike all want the best atmosphere and opportunities as the rest of the population. So, keeping up with technology and embracing it in the classroom is pivotal not only to give teachers and pupils the same access as other schools but also so the school doesn't get left behind by restricting teaching and learning. A recent analysis from Harvard hammered that point home as it showed that interactive learning helped reduce failure rates of students, read on for more!
Technology Is Moving Forward
Technology is ubiquitous in all walks of life in this ever changing landscape. Nobody is going backwards in this field. In fact, quite the opposite. Every sector has joined or is planning to join this vastly beneficial revolution. At this point there's no abandoning of technology. Only adding, upgrading and evolving as technology is continually proved to be hugely beneficial to both teachers and students.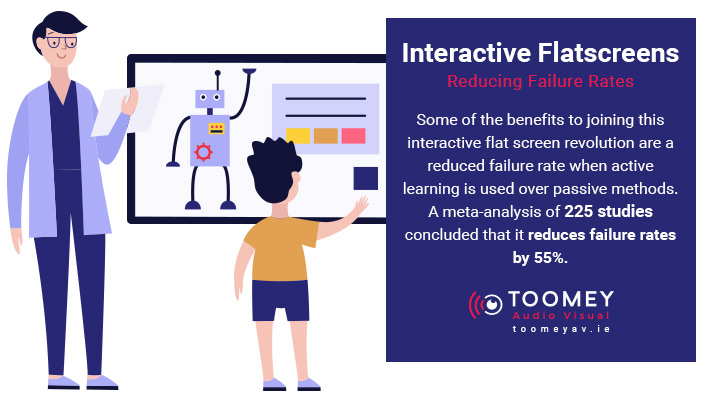 Interactive Flatscreens – Reducing Failure Rates
Some of the benefits to joining this interactive flat screen revolution are a reduced failure rate when active learning is used over passive methods. A meta-analysis of 225 studies concluded that it reduces failure rates by 55%. There's no better active learning method for primary children than an interactive flatscreen. Not only are interactive flat screens becoming more popular in schools but children's interactivity with their own devices such as a tablet improves class participation and knowledge retention.
Preparing Students for the Future
Teachers can use various apps, videos, devices and such to engage the children. Studies have also shown children pay better attention when they can join in with the lessons rather than just listening or reading passively. It will also prepare the students for a life surrounded by ICT in many workplaces and college campuses.
The Clevertouch Pro 65 Interactive Flat Screen
Our Clevertouch Pro 65 has many benefits in the classroom as well as economically beneficial for the school too. We offer a full installation service as well as expert advice for technology shy teachers. We do offer training in it if needs be. The Clevertouch Pro 65 is a very intuitive option which will immediately put both teacher and student at ease to get on with their lessons. This Clevertouch Pro 65 is very easy to get the handle on. If you know how to use your mobile phone or a tablet, then an interactive flatscreen will become second nature. It's a cost effective alternative to projectors which typically need maintenance, replaced parts and cost far more to run over time. We also offer a 3-5 year warranty with our screens so you can rest assured your lessons will go on no matter what.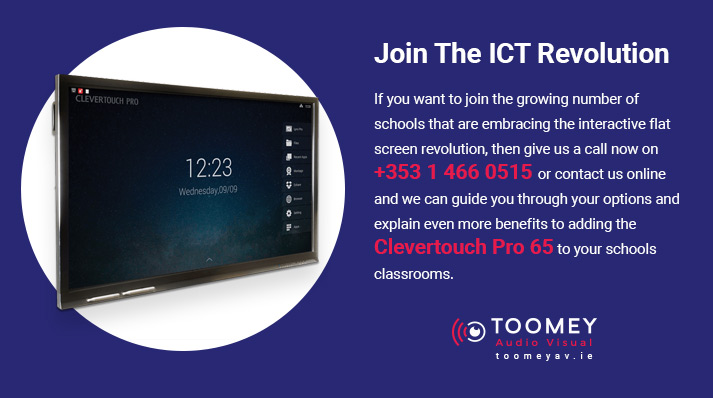 Join The ICT Revolution
If you want to join the growing number of schools that are embracing the interactive flat screen revolution, then give us a call now on +353 1 466 0515 or contact us online and we can guide you through your options and explain even more benefits to adding the Clevertouch Pro 65 to your schools classrooms.
Make sure you don't miss out on future blog posts by joining our mailing list now!