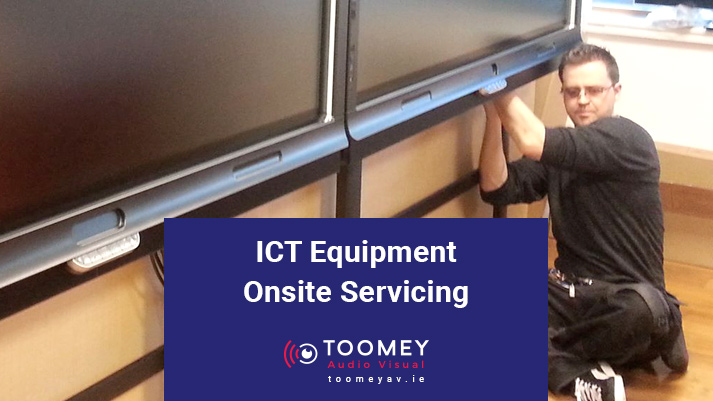 20 Mar

ICT Equipment Onsite Servicing – Make An Informed Decision

A lot of ICT equipment installed throughout Ireland in 2009/2010 is still in daily use. Although out of warranty, it is still functioning, in some cases without any issues whatsoever. Many users are choosing to refresh the projectors rather than replace expensive lamps, others are choosing to move to interactive flatscreen technology. We can supply you with the info you need to make informed decisions. Is your AV equipment out of warranty? Let us take care of the hassle!
Audio Visual Maintenance Service
At Toomey AV we understand that your AV equipment needs to be reliable and that you depend on it every day. That's why when something goes wrong you need a fast and efficient service that you can rely on. We can also offer a professional full onsite maintenance program for your Audio-Visual Equipment. Over the coming blogs we will feature some pf the AV services we provide. In this article, we are looking at onsite equipment servicing.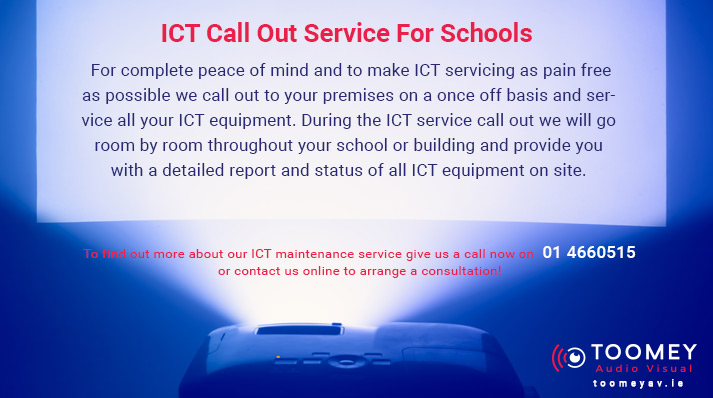 ICT Call Out Service For Schools
For complete peace of mind and to make ICT servicing as pain free as possible we call out to your premises on a once off basis and service all your ICT equipment. During the ICT service call out we will go room by room throughout your school or building and provide you with a detailed report and status of all ICT equipment on site.
Type of ICT Service Available
When we say we offer a comprehensive onsite ICT maintenance service we mean it! We've got 50 years of experience in working with Irish schools and ICT equipment and know the most common issues schools face with equipment and, more importantly, how to resolve them quickly or offer a workaround. You can see some of the areas we look at when conducting our ICT servicing below, an impressive list if we say so ourselves!
Projector Maintenance Service
Remove & Clean projector filters
Reset Filter Meters
Check Projector Performance
Check Mounting Bracket & Fixings
Check all signal cables
Check all AV Connectors
Check & test all AV terminations
Check Picture alignment & Calibration where necessary
Check Software & Firmware updates
Check remaining lamp life
Interactive Whiteboards Maintenance
Full system commissioning
Check all cables & Connectors
Check Software & Firmware updates
Check Picture alignment & Calibration
Administration
Equipment serviced in-line with manufacturers guidelines
Detailed SAP Reporting provided
WEE registered obsolete Equipment recycling
Cables & Termination Boxes
Check all cables, connectors & plates
Repair / replace any faulty items
Lamps
Check usage and remaining life
Provide competitive quotation for replacements
Software
Speaker Systems
Check all cables & Connectors
We're all about peace of mind. Why not use our expertise? We can call out after school for minimum disruption or blitz the entire school over 2 days.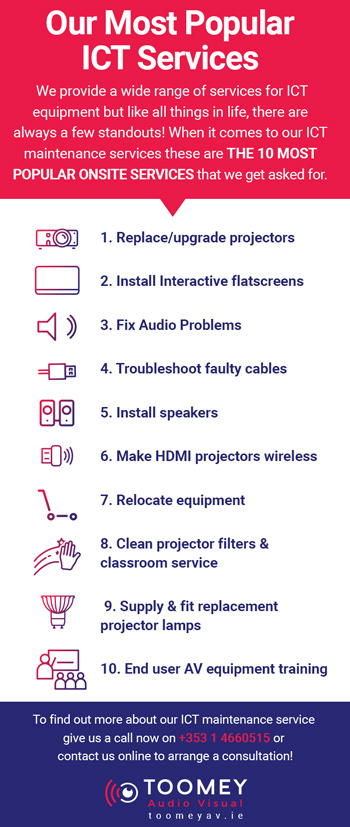 Our Most Popular ICT Services
As you can see from the list above we provide a wide range of services for ICT equipment but like all things in life, there are always a few standouts! When it comes to our ICT maintenance services these are the 10 most popular onsite services that we get asked for.
Replace/upgrade projectors
Install Interactive flatscreens
Fix Audio Problems
Troubleshoot faulty cables
Install speakers
Make HDMI projectors wireless
Relocate equipment
Clean projector filters & classroom service
Supply & fit replacement projector lamps
End user AV Equipment training
ICT Maintenance – Prevention Better Than Cure
Remember, as the old adage goes, an ounce of prevention is worth a pound of cure and this holds true for ICT in schools. By getting a regular ICT maintenance schedule in place you'll be able to prolong the life span of the equipment, ensure all is working safely and most importantly minisime any equpiment downtime so that classes and day to day business doesn't get interrupted.
To find out more about our ICT maintenance service give us a call now on +353 1 4660515 or contact us online to arrange a consultation!