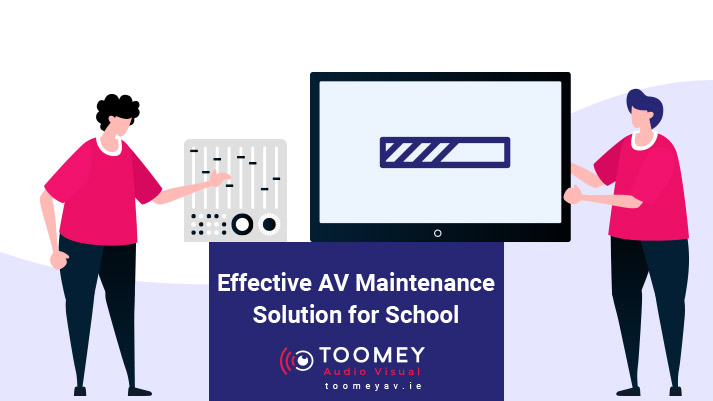 16 Dec

Effective AV Maintenance Solution for Schools

Having an efficient and modern AV solution in your school or college is key. The correct AV equipment allows teachers and lecturers to communicate effectively, whilst also helping to make lessons engaging and students more productive.
Ongoing Maintenance for School AV
Installed technology needs ongoing AV maintenance and support, or it will not remain functional for long. As technology has become embedded in the school setting, schools have had to come up with systems to support it, and have had to create support roles and find people to fill them.
Technology moves at a rate of knots and keeping up with the latest tech requires dedication. School projector brightness is increasing, computer resolutions are getting higher and higher, interactive screens are changing the face of tech in the classroom. CD Players are obsolete, videos are delivered on YouTube and not on CRT televisions on metal AV carts. Are you connecting with VGA? or Displayport? or HDMI, or USB-C? HELP!!!!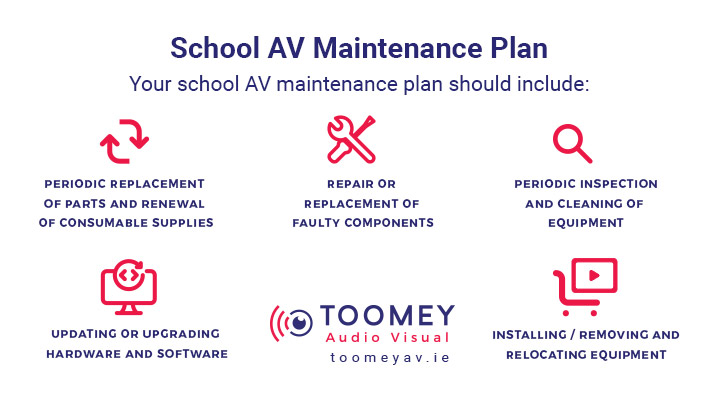 School AV Maintenance Plan
Teachers rely on technology day in day out. It is vital that equipment is audited annually. Old and dysfunctional equipment is upgraded and an active maintenance plan is put in place. Your school AV maintenance plan should include:
periodic replacement of parts and renewal of consumable supplies
repair or replacement of faulty components
periodic inspection and cleaning of equipment
updating or upgrading hardware and software
installing / removing and relocating equipment
The Education AV Installation & Maintenance Experts
Toomey AV have an excellent system in place for strategically auditing your schools AV systems. One of our technicians will go room to room and list your equipment, check lamp hours (projectors), note shortfalls and issues in each room. We will document the findings and report to you with our recommendations and a path forward to achieving an overall high quality and reliability standard across your campus.
Onsite Call Out AV Support Service for Schools
In Leinster we offer onsite call out support options for service issues giving you complete peace of mind. There is one thing that sets Toomey AV apart from the competition: time. We've been doing this for a long time – over fifty years. Time leads to tradition and tradition leads to trust and respect. It is so rare in this age to find a business that is handed down through the generations. We are proud of our provenance. We strongly value the business and personal relationships with school leaders across Ireland that we have inherited and built up over time. We enjoy a friendly rapport with these school leaders. We treat them with familiarity and respect. We value the trust they have in us and we strive to maintain it.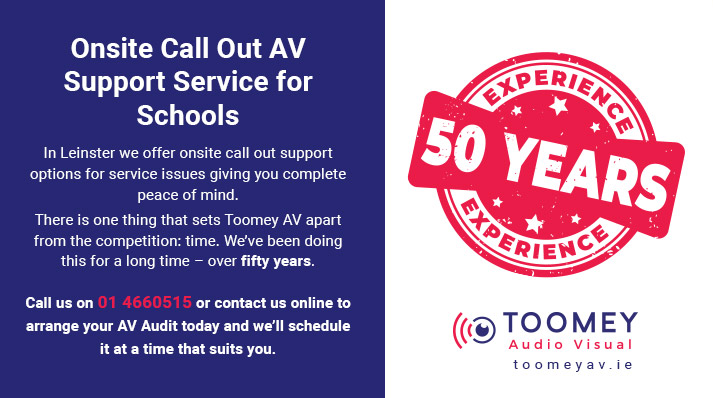 Call us on 01 4660515 or contact us online to arrange your AV Audit today and we'll schedule it at a time that suits you.