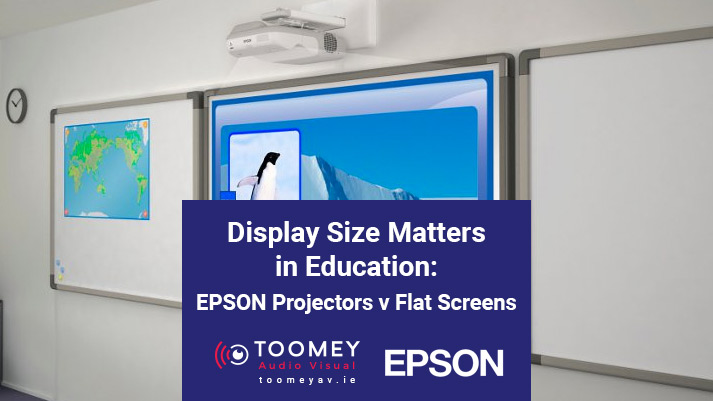 03 Apr

Display Size Matters in Education: Projectors v Flat Screens
Specialists in Projectors for Schools
In a world of tablets, iPads and interactive flat screens, projector technology might seem outdated to some. Modern projector technology has been with us for over half a century, after all. At Toomey AV we specialise in projectors for schools and have done so since we first opened our doors for business way back in 1968. We know enough about projectors and the audio-visual technology industry to be able to say with confidence that, not only is the projector still relevant and still evolving, it is competing with the flat screen.
EPSON Projectors Are Superb for Schools
Our Epson projectors are superb for the learning environment in many ways, but the main advantage they hold over flat screens is that they offer scalable screen size, to meet the different requirements of rooms of all sizes. We recently had a look at our top 3 interactive projectors and EPSON topped the list! Epson projectors allow you to achieve optimal display with correct visibility, ensuring that everyone can make the most of the lesson, both teacher and pupil. Achieving the optimal screen size requires precision. It involves replicating the average desktop experience for all students in your class, including those seated at the very back. The Epson projector will allow you to do this. Not only do you need your on-screen content to be visible, you also need to adhere to EU health and safety standards in relation desktop display experience. Epson exceeds these standards.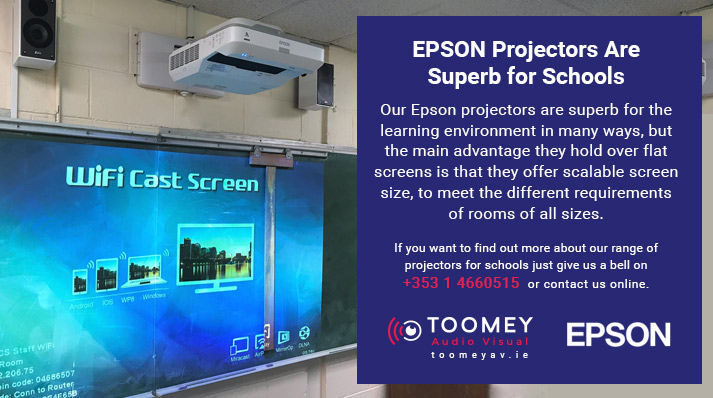 A Powerful Alternative to Flat Screens
Epson projectors are a viable and powerful alternative to flat screens and white boards. They are an all-in-one solution that is highly affordable when compared to the price of flat screens over 80". They are also lighter than flat panels which allows easy installation and they have the same high degree of connectivity as flat screens. Epson projectors are designed to integrate with your existing system, to ensure smooth work flow across all devices, at all times. Create flexible and dynamic lessons and unify communications with this superb all-in-one screen solution.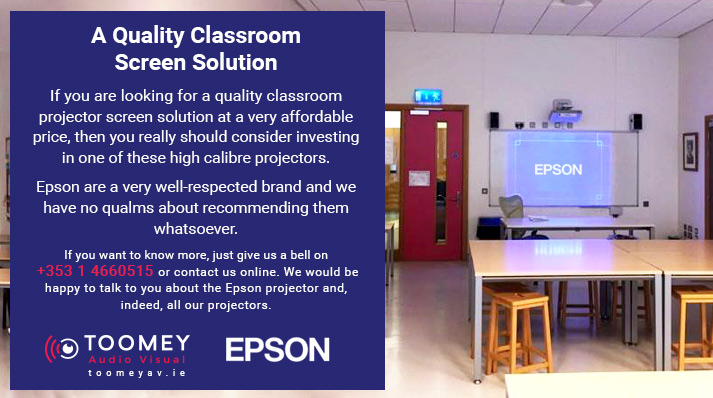 A Quality Classroom Screen Solution
If you are looking for a quality classroom projector screen solution at a very affordable price, then you really should consider investing in one of these high calibre projectors. Epson are a very well-respected brand and we have no qualms about recommending them whatsoever. Projector technology has been on the market for over fifty years, so they must be doing something right! We believe it is down to their lightness, scalability and excellent performance. Convinced? Curious? If you want to know more, just give us a bell on +353 1 4660515 or contact us online. We would be happy to talk to you about the Epson projector and, indeed, all our projectors.
Don't miss out on future blog posts and be in with a chance to win a €100 voucher by joining our mailing list now!