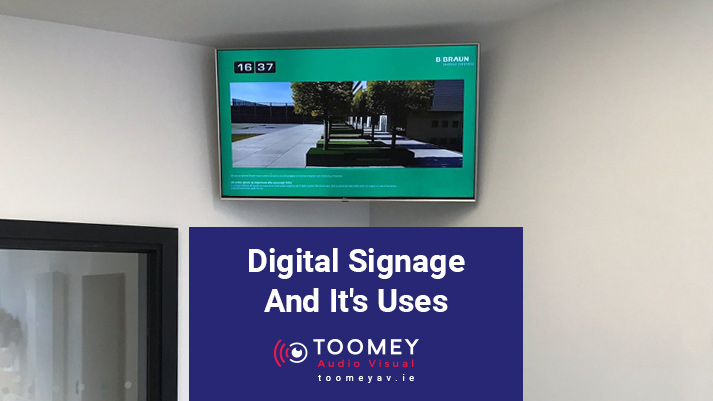 08 Oct

Digital Signage And It's Uses
Digital Signage in the Learning Environment
Digital signage technology is completely changing the way general information is communicated in the learning environment. Timetables, school news and notifications concerning change of class location or teacher are all instantly conveyed and can be updated easily and quickly. Whether you choose to have one or multiple screens across the school or campus, the signage technology will make life a lot easier for you.
Digital Signage Technology Has More Than Just A Practical Purpose
A school or college is really like a small village. There is a strong sense of community and solidarity. It is important to keep students informed regarding news and events. This reinforces the communal feel of school or college life. Indeed, digital signage technology has much more than a practical purpose. It keeps students and teachers informed but it also instills strong social feelings. This atmosphere and environment are unlike any that we experience after we finish school and enter the workplace. Indeed, some people never leave the academic environment and these teachers and scholars are served by digital signage technology as much as students are.
Some Uses of Digital Signage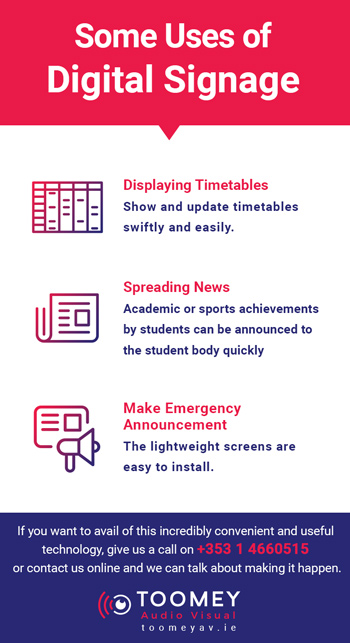 Let's take a closer look at some of the uses of signage.
Displaying Timetables – Show and update timetables swiftly and easily. Anyone who has been to college will know how frequently timetables are changed. It usually involves a change of room. Making these changes instantly accessible to students through signage is so much easier than having to email those affected.
Spreading News – Academic or sports achievements by students can be announced to the student body quickly and effectively using digital signage screens. Such announcements inform but also boost morale and instill pride in both students and staff.
Make Emergency Announcements – This is probably the most practical use of signage technology. The importance of safety procedures during a fire alarm should not be underestimated. Convey these procedures and instructions clearly by displaying them on screens throughout the building or campus.
Digital Signage Tech Has Advanced Considerably
So, there you have it. The practical and moral uses and applications of digital signage technology are manifold. Those schools and colleges that have invested in them will never look back. Indeed, technology has advanced considerably since the days of the school intercom system. Educational institutions are amongst the most important institutions in our society. That is why they deserve the latest and best in technological innovations that are geared toward use in the learning environment.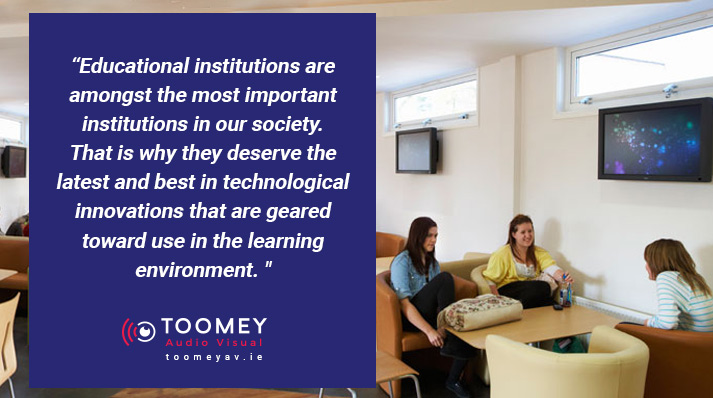 These Information Systems Are Needed More Than Ever Before
As numbers attending both schools and colleges increase dramatically, these information systems are needed more than ever before. ToomeyAV is proud to play its part in delivering such technology to schools and campuses across the land. If you want to avail of this incredibly convenient and useful technology, give us a call on +353 1 4660515 or contact us online and we can talk about making it happen.