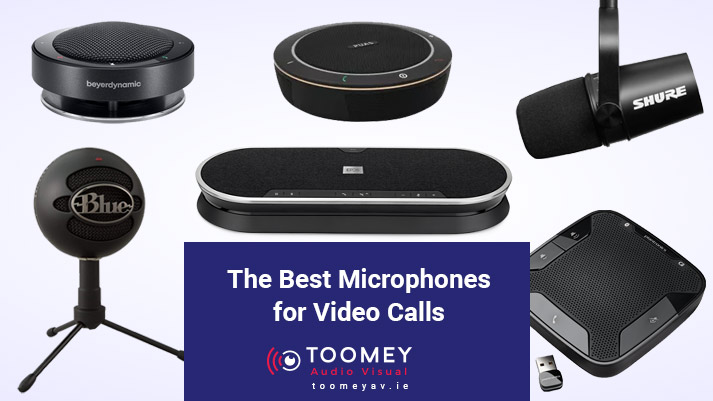 12 Mar

The Best Microphones for Video Calls

In recent months, there's been a surge in video calling due to the coronavirus pandemic. Needless to say, it only takes a few Zoom calls to realize that a standard laptop microphones simply cannot deliver high-quality audio. Fortunately, there's plenty of tech to improve the quality of virtual conferences and an aftermarket microphone is a smart way to immediately give your audio a healthy boost. Ranging from high-end broadcast-style microphones to USB port audio accessories for recordings on the go, there's certainly no shortage of models to choose from. In this post we'll look at some the best microphones for video calls – let's dig in!
Video Conferencing Solutions In One Click
Hosting a video call has gone from requiring expensive conference rooms outfitted with the latest hardware to one-click video calls on our smartphones. Skype conference calling for business has become one of the most popular web conferencing solutions around, and most of us might make due with just our smartphones or laptop's built-in cameras. But it doesn't take much to put together a capable and high-quality video conferencing solution. Whether you are building off an existing setup, or simply want to add a microphone to your laptop, we put together a list of different add-ons that can help improve your video calls.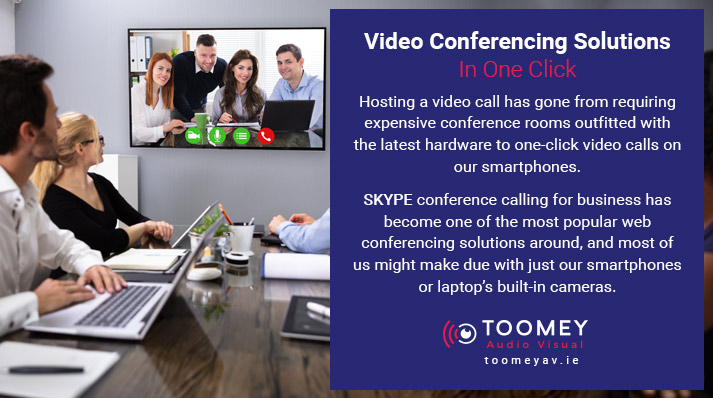 Best Microphones for Video Calls
If you already have video covered, or just plain hate the way your built-in microphone sounds, a standalone USB microphone could be a solid addition to your setup. While most webcams have a microphone built in, the quality is usually less of a concern than the video so might not be up to your expectations – and as we have seen some conference cameras don't include a mic. Of course you can spend thousands on professional recording grade microphones, but since most users aren't recording music we decided to stay pretty budget friendly with these mics for video calls.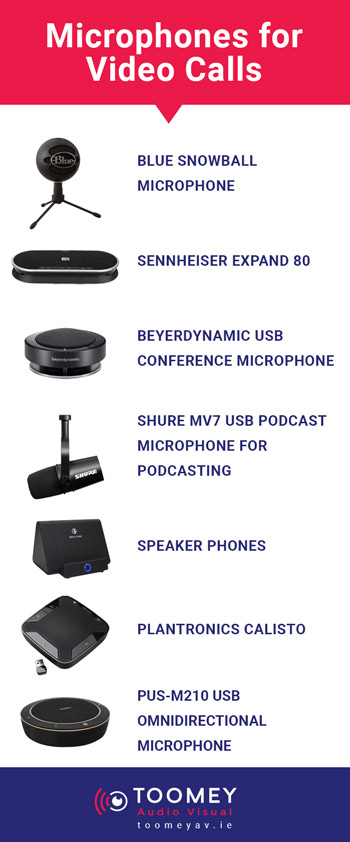 Blue Snowball Microphone
The Blue Snowball has quickly become one of the standard go-to microphones for anyone looking to establish a capable recording, or in this case, conferencing setup. As simple plug-and-play standalone microphones go, the Snowball is a standard for good reason. Known for its clear sound quality this condenser mic is great for picking up voices very easily in a large room with dual microphone capsules – in fact this mic was primarily designed for use in recording vocals, podcasts, or even applications like Skype, Teams & Zoom.
If you are looking for a cost effective, set it and forget it approach to a microphone the Snowball is probably one of your best choices. Just be aware, due to the nature of condenser mics they may pick up some background noise such as keyboards if you are not in an enclosed area. With a 6 foot cable and sturdy desktop stand the Snowball could easily live right next to your camera, or in the middle of a conference table. This Mic is ideal for individual use.
Sennheiser Expand 80
So yet again those very clever people at EPOS Audio (some of you know them better as Sennheiser) have come up trumps with the new Epos Expand 80 Speakerphone from the ever expanding EPOS Expand range of speakerphones. Epos Audio have produced 2 variants of their new Bluetooth speakerphone, very similar to other products in the new EPOS stable. The EXPAND 80 contains six adaptive beamforming microphones and highly advanced DSP intelligently isolate the human voice from room reverb and ambient noise. It is crafted with high-quality materials and sound-enhancing fabric by Kvadrat with a premium, minimalist aesthetic. It has powerful ultra-low distortion speaker in a unique patent pending suspended speaker box fills the room with outstanding sound, enabling superior duplex performance. The EXPAND 80 connects via Bluetooth, USB-C or NFC.
Beyerdynamic USB Conference Microphone
This is a small standalone mic meant to sit on a conference table, great for picking up multiple talking heads in one large area. This is actually a capsule boundary microphone, which really just means these microphones are designed to be placed on a flat surface to pick up a full room of sound. This microphone is low cost and ideal for as a classroom application.
Shure MV7 USB Podcast Microphone for Podcasting – Black
The Shure MV7 is a professional-quality USB/XLR dynamic microphone inspired by the legendary SM7B, ideal for close mic applications that require vocal intelligibility with a balanced tone. A touch panel interface on the microphone itself provides control over microphone gain, headphone level, monitor mix, and muting, and the ShurePlus MOTIV Desktop Application allows users to save their own presets or enable auto-gain, compression, and EQ presets for easy real-time audio processing. The attractive and durable all metal design features an adjustable yoke that can be mounted onto a variety of microphone stands for flexible placement options.
Speaker Phones
The same speaker phones, and even some small business VoIP desk phones, your team might already employ for standard conference phone calls can also be incorporated into your Video Conferencing solutions – or might just make the most sense for your video call room when looking to establish a new setup. These solutions also make sense for teams looking to get the most bang for their buck, offering multiple ways to utilize the speaker phones with voice and video calls. Speaker phones also offer a step above simple USB microphones in complimenting a standalone camera that also doesn't contain any speakers.
Plantronics Calisto Portable USB Speakerphone
Really focusing on the portability aspect is Plantronics Calisto. This portable PC speakerphone is great for anywhere, anytime conferencing and can serve as a solid replacement for a headset on the go. Simply plug the Calisto USB right into your laptop or even tablet and you have a speakerphone anywhere you are. With a built in microphone, Plantronics recommends the Calisto primarily for small and medium sized conference / classrooms or huddle rooms.
The Calisto even includes easy to use "single touch controls" including a call answer and end button, volume adjustments, and an hardware mute function. For those that want more than just Skype out of their devices, the Calisto also integrates with leading softphones. With such a focus on portability, Plantronics does a great job in offering one of the best mobile conferencing options for those last minute video meetings.
PUS-M210 USB Omnidirectional Microphone
The M210 was a USB omnidirectional microphone which can be used for personal calls and Huddle rooms. It can be connected to a PC for unimpeded full-duplex voice calls. It is adaptive to 16KHz full-duplex echo cancellation and automatically adapts to audio and video products and systems with different voice bandwidths & is clear & comfortable, and it can support video equipment, network voice, UCC and instant communication software to achieve convenient Internet collaborative work, improve meeting and work efficiency. The microphone collection distance is up to 2~3 meters, which is suitable for SME conference rooms and personal offices within 20 square meters.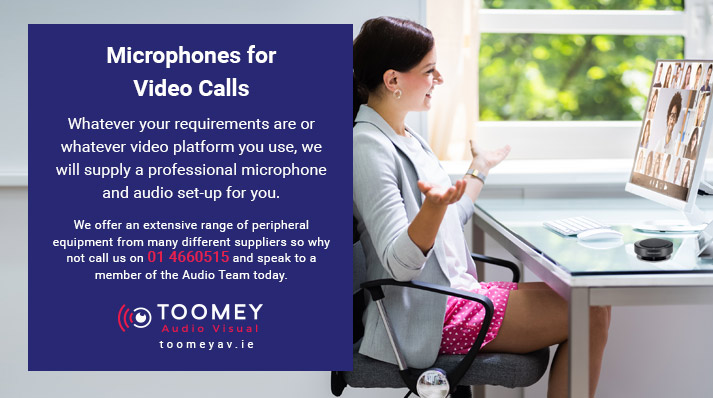 Microphones for Video Calls
Whatever your requirements are or whatever video platform you use, we will supply a professional microphone and audio set-up for you. We offer an extensive range of peripheral equipment from many different suppliers so why not call us on 01 466 0515 or contact us online and speak to a member of the Audio Team today.