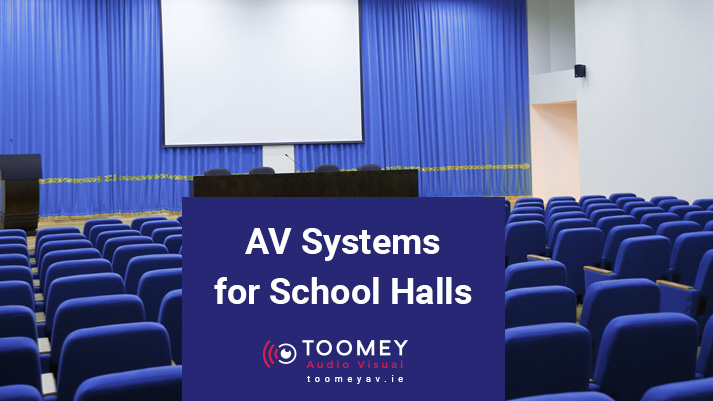 30 Jan

AV Systems for School Halls

These days AV systems in the classroom and school hall are fast becoming the norm. Pupils and their parents expect this level of technology as it mirrors their daily lives. The world is saturated with ICT.
AV Systems in the Classroom and School Hall
However, this wasn't always so. Anyone over the age of forty will remember the pleasure and excitement of watching a film in class, during classroom hours. It was a break from the routine, but it was more than this – it was a special occasion. The teacher would roll in the TV and video player on a trolley. A good deal of time would be spent trying to tune the video player. More time was spent trying to eliminate the glare and the pupils at the back of the class complained that they couldn't see properly. But it was still special.
High Quality AV Technology
These days, pupils can enjoy such special occasions but without the time-consuming trouble. Investing in some high-quality AV technology for your school hall or gym will mean you can bring the pupils to the entertainment rather than bringing the entertainment to the pupils.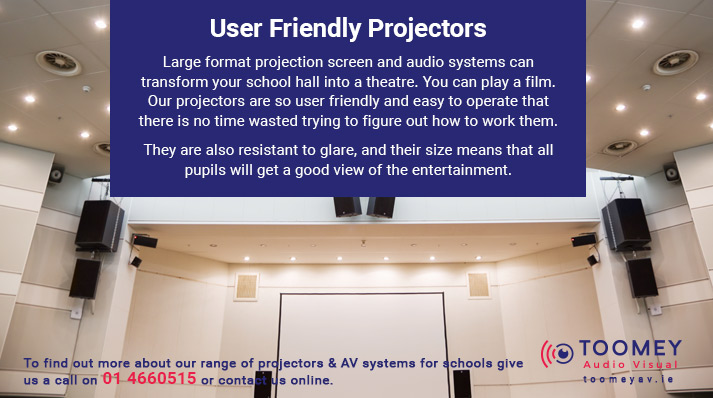 User Friendly Projectors
Large format projection screen and audio systems can transform your school hall into a theatre. You can play a film. Our projectors are so user friendly and easy to operate that there is no time wasted trying to figure out how to work them. They are also resistant to glare, and their size means that all pupils will get a good view of the entertainment.
A Powerful AV System at Your Fingertips
Of course, there are many other things you can do with a powerful AV system at your fingertips. Perhaps you have some amateur film makers amongst your students and you wish to show your pride in them. A large format projector is the answer. Or you can hold a play or a concert with the right audio solution. Maybe you have a stand-up comedian in your midst. Or a poet. A portable PA system will allow them to shine and perhaps even launch a successful career. There is so much you can do to nurture talent: providing a stage in this way is probably the best thing.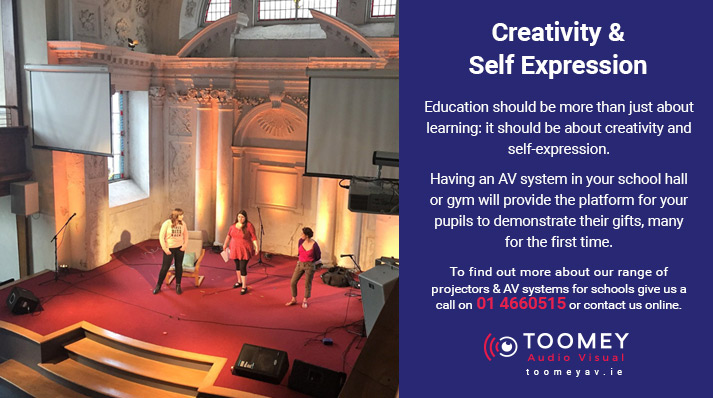 Creativity and Self Expression
Education should be more than just about learning: it should be about creativity and self-expression. Having an AV system in your school hall or gym will provide the platform for your pupils to demonstrate their gifts, many for the first time. It also instills pride and a sense of identity in pupils when the entire school is gathered to watch a film, play or concert. These are the days you remember, so make sure the occasion is memorable for the right reason by investing in a powerful, easy to use AV system.
Toomey's has the ideal AV solution for your school hall. With 50 years in the business we know what we're doing and what will work for your school. Give us a call now on +353 1 4660515 or contact us online for more info!