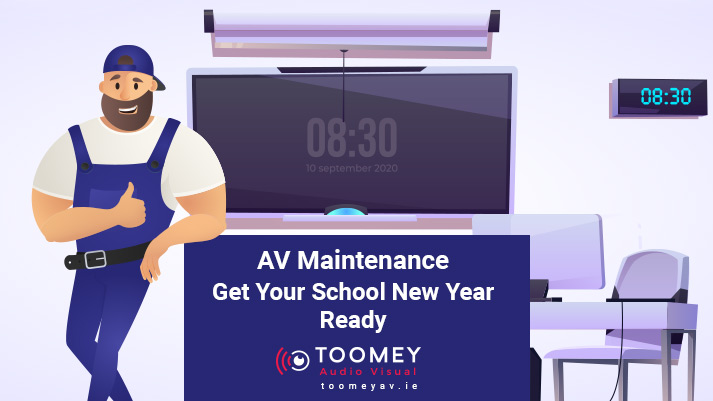 08 Dec

AV Maintenance – Get Your School New Year Ready

As we're approaching the Christmas period a lot of schools empty for the holiday. This is the perfect time for staff to fine tune any problems they've encountered during the first part of the school year. It's also a chance to ensure your school doesn't hit any snags in the second half of the year by completing some routine AV maintenance and repairs on any equipment you may have.
AV Maintenance – Window of Opportunity
This time of year is the best time to get this work done as it won't impact any lessons. It's also much less intrusive for staff. There's also plenty of time to ensure any kinks that arise are ironed out before everyone descends back. These checks are vital to the longevity of all AV equipment. Maintaining their performance regularly is a long term moneysaving strategy that it would be remiss to ignore it.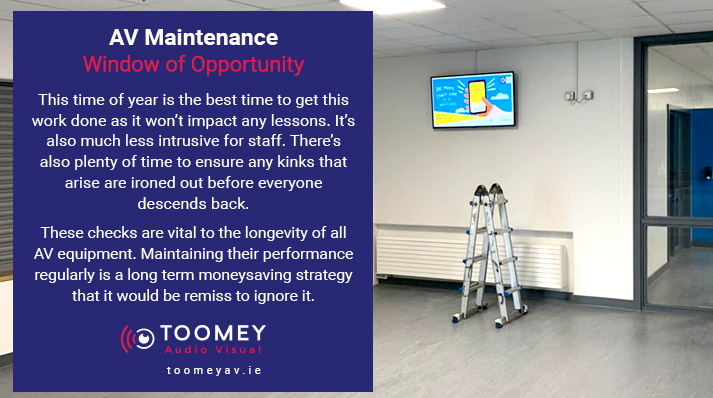 Experienced AV Maintenance Services
Here at Toomey AV our staff have 50+ years of experience and our expertise can extend the life of all your equipment. Our services encompass a large array such as:
Projectors: Removal and cleaning of filters. Reset filter meters. Check projector performance. Check mounting bracket & fixings. Check all signal cables. Check all AV connectors. Check & test all AV terminations. Check picture alignment & calibration where necessary. Check software & firmware updates. Check remaining projector lamp life.
Interactive Whiteboards: Full interactive whiteboard commissioning. Check all cables & connectors. Check software & firmware updates. Check picture alignment & calibration.
Administration: Equipment serviced in-line with manufacturers guidelines. Detailed SAP Reporting provided. WEE registered obsolete equipment recycling.
Speaker Systems & Cable/Termination Boxes: All cables and connectors are checked. Any faulty items can be repaired or replaced.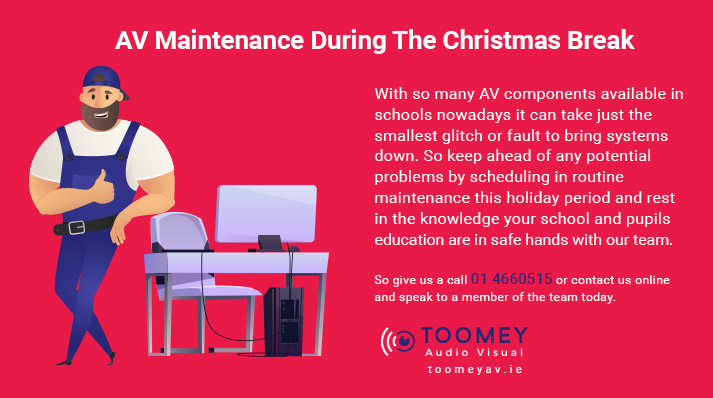 AV Maintenance During The Christmas Break
With so many AV components available in schools nowadays it can take just the smallest glitch or fault to bring systems down. So keep ahead of any potential problems by scheduling in routine maintenance this holiday period and rest in the knowledge your school and pupils education are in safe hands with our team. So give us a call +353 1 4660515 or contact us online and speak to a member of the team today.